Dear Friends,
One of the most exciting things we've introduced to our Saving Dinner family this year is has been the paleo way of eating. The powerful nutrition provided by this "new" old way of eating has been nothing less than transformational for me and for many others. This is the original anti-inflammatory diet, it's such a powerful way of eating, that it got Dr. Terry Wahls who was diagnosed with secondary progressive MS right out of her wheelchair! But that's another story for another time (we did several webinars with Dr. Wahls).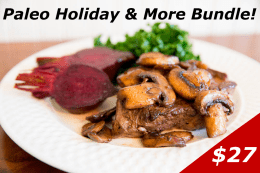 Listen, if you're not familiar with paleo, here's a little snapshot—the word "paleo" refers to the Paleolithic age when hunter/gatherers lived and eating paleo means embracing the way they ate way back then. In other words, whatever our ancestors could gather, hunt or fish—so meat, fish, eggs and vegetation, berries and nuts.
Research (LOTS of it, worth a google!) has shown that our hunter/gatherer ancestors were lean, strong and athletic with none of the modern maladies that plague us such as diabetes, heart disease and cancer. Pretty interesting, isn't it? (Of course, one or two of them probably got eaten by a lion!)
In any case, this way of eating has been enthusiastically embraced by many of our Saving Dinner family; here's what Bitsy had to say about it:
"I have been searching and praying to find something like this for about a year!! I felt like there was so much support for low fat diets, but nothing for low carb or Paleo, so thank you so very, very much for supporting this way of eating. I believe it makes such a difference in our health and was having trouble sticking to it because of a lack of support.
Thank you again and I'm so excited I found Saving Dinner.com!!"
~Bitsy
Bitsy, we're glad you found us too! To celebrate the paleo way of eating, we've put together a terrific variety of paleo menus to help and support you on this journey:
* Paleo Soups and Stews  ($10) 10 recipes such as Chicken Adobo Soup and Tomato Bisque
* Paleo Now and Later ($10) 10 freezer-friendly recipes so have Smoky, Sweet and Tangy Pork Wraps for dinner one day and put some of it the freezer for later!
* Paleo Recipes to Up Your Minerals ($10) 15 recipes; bone broths, plus delicious recipes to help you put the minerals you may be missing back into your body! Tomato Crab Bisque and Mediterranean Salmon with Kale are just a few of the incredible recipes!
* Paleo Christmas ($10) A complete holiday menu! Roast Beef and all the fixings, but paleo friendly…with a delicious dessert! No one will know you've gone paleo!
* Paleo Thanksgiving ($10) Turkey, stuffing, cranberries, and an amazing paleo pumpkin pie!
All of this would retail for $50, but today it's just $27!
If you have been searching for a way of eating that is anti-inflammatory, doesn't require weighing and measuring food or counting calories, then we've got your answer here with these menus. They're amazing and they're almost half off, grab them now!
Love,
Leanne