Tricks, Tips and a Recipe
A Great Gluten Free Substitute and Recipe!
By: Leanne Ely
Happy Tuesday, Y'all!
Welcome to Tricks, Tips and a Recipe, our regular Tuesday installment where you'll learn a tip or a trick and you'll get a great recipe to try it out with. Doesn't get much better than that, now does it?
Don't forget tomorrow is the radio show, Saving Dinner with the Dinner Diva. It's on every Wednesday at noon EST. http://www.blogtalkradio.com/flylady. You can call in LIVE with your questions! If you can't, you can always listen to the archives.
Today's focus is on BUCKWHEAT FLOUR.
Buckwheat flour comes from a plant, not a grain and is naturally gluten free. The flour is milled from buckwheat groats, the seeds of the buckwheat plant, which incidentally is related to rhubarb.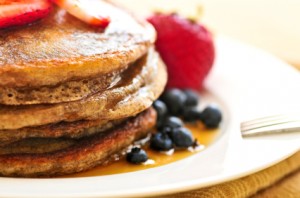 With lots of naturally occurring fiber, this is a good choice for a regular flour substitute for the celiac or gluten intolerant. Nutritionally, buckwheat flour is phytonutriently rich, full of B vitamins and is rock star for manganese and magnesium.
Here's today's TRICK:
You can use buckwheat flour for anything that you would use regular wheat flour for. As a thickener for sauces, it works well and in recipes, though it has a stronger flavor than wheat flour, it is an easy swap.
Here's a TIP:
If you're thinking of starting your baby on cereal, consider a cream of buckwheat cereal instead of rice or some other grain. Amylase, an enzyme that is produced in the saliva for digestion (and is necessary to digest grains) doesn't form enough in a baby till after 1 year of age. Baby won't have any issues with buckwheat cereal because it's technically a fruit, not a grain.
And your RECIPE:
Buckwheat Pancakes
Makes about 8 pancakes
1 cup buckwheat flour
1 teaspoon baking powder
2 tablespoons sugar, sucanet or honey
1/2 teaspoon salt
1 egg, beaten
1 cup milk or buttermilk
2 tablespoons melted butter
Preheat griddle or skillet (if electric, go about 375 degrees). Lightly grease griddle.
In a bowl, place all dry ingredients, mix together and make a well in the bottom of the bowl. In a smaller bowl, mix wet ingredients together, add in the middle of the well you just created and mix together well.
Now make your pancakes and enjoy with a little butter and real maple syrup for an amazing treat!
Per Pancake: 116 Calories; 5g Fat; 4g Protein; 15g Carbohydrate; 2g Dietary
Fiber; 38mg Cholesterol; 249mg Sodium. Exchanges: 1/2 Grain(Starch); 0 Lean
Meat; 0 Non-Fat Milk; 1 Fat; 0 Other Carbohydrates. Points: 3
Looking for some great gluten free recipes? Check out our 20 for the Freezer Gluten Free menus! With 3 different volumes to choose from, you can't go wrong!