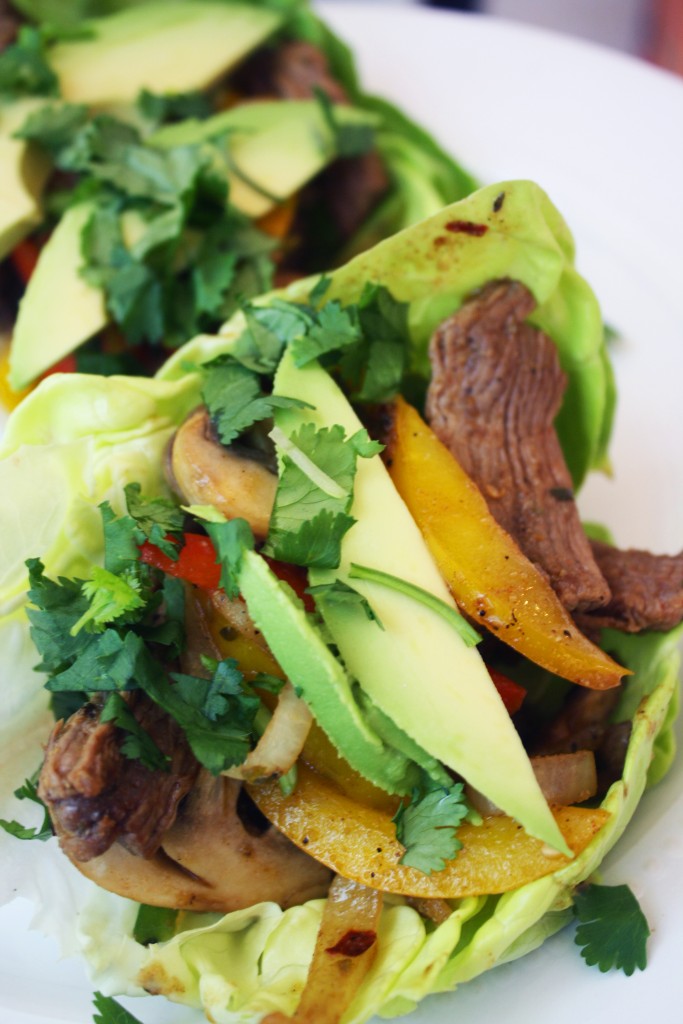 Skillet Fajita Lettuce Wraps
Serves 4
Prep time: 20 minutes
Cook time: 15 to 20  minutes
Ingredients:
1 pound flank steak, thinly sliced against the grain
1/2 teaspoon chili powder
1/8 teaspoon ground cumin
1/8 teaspoon paprika
1/2 teaspoon dried oregano
Sea salt and freshly ground black pepper to taste
1 tablespoon coconut oil
1 large yellow bell pepper, stemmed, seeded and sliced
1 large red bell pepper, stemmed, seeded and sliced
1 medium yellow onion, sliced
1 clove garlic, minced
5 ounces sliced white mushrooms
2 large green onions, green part sliced
1 medium jalapeño, seeded and thinly sliced
1 cup low sodium vegetable broth
8 bibb lettuce leaves
1 large ripe avocado, peeled, pitted and diced
1/4 cup chopped fresh cilantro
Directions:
In a large bowl, place steak and next 4 ingredients (chili powder through oregano). Add sea salt and freshly ground black pepper to taste. Toss steak until evenly coated.
In a large skillet over medium-high heat, melt coconut oil. Add steak to pan in a single layer. Let sear for 3 to 4 minutes. Flip steak over and sear other side for 3 to 4 minutes. Remove steak from skillet and set aside.
Add next 5 ingredients (yellow bell pepper through mushrooms) to skillet. (If pan is getting too dry, add 1/4 cup of vegetable broth.) Scrape brown bits from pan and toss veggies for 3 to 5 minutes, until they begin to soften.
Add green onion, jalapeño, vegetable broth, steak and any juices that collected under steak. Toss and cook for 5 to 8 minutes.
Remove from heat and serve warm on lettuce leaves topped with avocado and cilantro.
——————————–
We have so many more delicious recipes just like this in our Premium Menu-Mailer program, and for the first time ever you can get a FREE trial!  Just click here to get immediate access to Premium Menu-Mailer…no payment necessary!