Recipes
May 3, 2012
Freezer Frenzied No More!
Dinner Diva
Freezer Frenzied No More!
By: Leanne Ely
A few years ago (quite a few years ago, actually), a new cooking trend was born – Once A Month Cooking – OAMC for short. The whole idea was to spend a day cooking, freeze what you make, they reheat it as needed; sort of DIY Stouffers concept.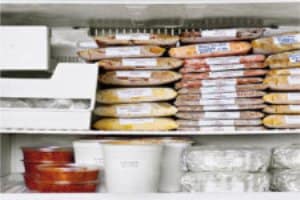 Great idea, soggy delivery. The proponents of this type of cooking said it only took a day to make a month's worth of meals and you had "great" dinners that you could reheat anytime. The problem was that most of these dinners took on the watery characteristics of reheated casseroles and the flavor of the food was as lukewarm as their presentation. The other issue is time – a whole day for heaven's sake! Who can literally take a day off from life to do this?
In the early 2000's, a new version of OAMC was born and the result was dinner assembly franchises popping up like ground hogs in the spring. Everywhere you turned in suburbia you could find several types of these storefronts.
The idea of these places goes like this: come into their store, spend two hours or so assembling 12 to 15 meals from their already chopped veggies and pre-prepared ingredients, so all you have to do is put them together raw, label and freeze for cooking at a later day, thus removing the OAMC twice-baked casserole deal. The problem is it doesn't come cheap.
So what's a time stretched harried homemaker to do? Do it yourself, of course! There is a way to do this. Here's how:
Find meals that can be assembled in their raw state, defrosted successfully, then cooked freshly. A good example of this is meatloaf. All you have to do is make your meatloaf mixture, shape it, then put it in a freezer zipper bag, mark the bag and date it, then on the day you want to use it, defrost it and bake it. You will never know that your meatloaf was previously frozen!
Here is a recipe that we have on our very first Twenty for the Freezer, a downloadable menu with 20 recipes that you assemble all at once, freeze and cook later as needed. When you have a freezer full of meals like this to choose from, you will say good-bye to the drive thru forever! Enjoy!
In a 1 gallon plastic freezer bag, mix and blend well together:
Mega Marvelous Meatloaf
Serves 4
2/3 cup dried stuffing mix
1 egg
2/3 cup buttermilk
1 pound extra-lean ground beef
1 1/3 teaspoons garlic powder
2/3 teaspoon thyme
1/3 cup ketchup
2/3 teaspoon honey
2 teaspoons Worcestershire sauce
Salt and Pepper to taste
Seal the bag and blend the mixture together by squeezing and kneading the bag.  Unseal the bag, starting at the bottom of the bag, roll the mixture to force out any air then seal the bag again.  Insert this bag into a gallon sized plastic freezer bag and place a copy of the recipe into the 2nd bag as well and seal it.  Place your label on the bag or write the name and date on the bag and place in the freezer.
When you want to have this meatloaf for dinner, thaw in the fridge overnight and then:
Preheat oven to 375 degrees.
Place meatloaf in a loaf pan and bake for about 1 hour or until done.
Per serving: 390 Calories; 24g Fat (55.7% calories from fat); 26g Protein; 17g Carbohydrate; 1g Dietary Fiber; 133mg Cholesterol; 578mg Sodium.  Exchanges: 1/2 Grain(Starch); 3 1/2 Lean Meat; 0 Non-Fat Milk; 3 Fat; 1/2 Other Carbohydrates.
SERVING SUGGESTIONS: Serve with mashed potatoes, steamed green beans and crusty whole wheat rolls
Note: To save storage space in your freezer, place blended ingredients into a plastic storage bag and roll it up to force out any air, then seal and place in freezer.
Our Freezer Menus are the best, pick some up today!
Fundraising
Schools Beginning to Focus on Healthier Fundraising Options
By: Daniel Munns
There is no denying that combating childhood obesity is a hot topic these days.  According to the U.S. Centers for Disease Control and Prevention, approximately 17% (nearly triple the percentage from 1980) of children and adolescents in the U.S. are obese.  First Lady Michelle Obama has prioritized solving childhood obesity with her Lets Move! initiative, which is focused on providing healthier foods in our schools.  Further, the Healthy, Hunger-Free Kids Act of 2010 has a goal of improving child nutrition, and has forced schools to re-evaluate the food they are serving to their students.
The Saving Dinner Fundraising team has discovered that this healthy push is making its way into the school's fundraising choices.  In fact, many PTOs (Parent Teacher Organizations) we have spoken with are actually banned from using unhealthy food fundraisers such as cookie dough, doughnuts or even bake sales.
Many other organizations would prefer to use a healthier program to raise funds, however they have a hard time walking away from the food fundraisers they have used year after year.   While this is understandable as the funds raised are necessary for the schools these organizations are supporting, it is important to note that there are options out there.
Not only is Saving Dinner Fundraising a healthier fundraising alternative for schools, but the program also provides tools to help families prepare more nutritious meals.  All menu-planning products of the program have been hand-selected by Leanne Ely, C.N.C.
Any of you out there been told to find a healthier fundraising program for your organization?  Or have you been forced to send your kids out selling unhealthy food because that is what has always worked?  Share your thoughts with us on Facebook, we would love to hear from you.