Recipes
August 9, 2011
The Perfect Peach
Tips, Tricks & a Recipe
The Perfect Peach
by Leanne Ely, CNC
Today's Focus is Peaches
Peaches are synonymous for summer. You see abundant peaches everywhere this time of year, in grocery stores, farmers' markets, and local produce stands. Bag after bag spilling over with a plethora of sweet and fuzzy fruit.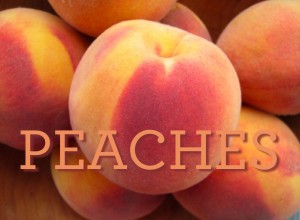 We only have a limited few weeks of this hot season to really enjoy peaches, so let's take advantage of that! But first, let me trot out the list of health benefits: thiamine, potassium, calcium, and beta carotene (the precursor to vitamin A). The beautiful color of a peach lets you know that the beta carotene is working overtime and I'm sure you know that the might anti oxidant qualities of beta carotene help ensure healthy hearts and eyes. The darker the color of the peach, the richer it is in beta carotene – not only that, but it's usually more ripe and sweeter! It's a double whammy; the taste and nutritional perks are both better.
Because peaches have a hefty amount of potassium and fiber, they're helpful for digestive conflicts and well as kidney disease. So if you have any problems with indigestion, try adding more peaches to your diet!
Here's Your Tip
There are several different ways to eat peaches. You can boil them, cook them, bake them, or just eat them raw. Though the best way to eat them is raw because when cooked/boiled/baked they lose up to 80 percent of the nutritional perks they have to offer.
Here's Your Trick
When you cut open a peach you need to eat it or cook instantly because once the flesh is exposed to air, they'll darken and go bad. However, if you want to prevent this after chopping up a peach and can't manage to consume the whole thing, just dip the cut pieces in a bit of citrus or pineapple juice, and it'll prevent the process.
And For Your Recipe
Peach Chutney
8 peaches, peeled and diced
1 1/2 teaspoons fresh ginger root, grated
1 small yellow onion, minced
1/2 red, orange, or yellow bell pepper, seeded and diced
1 small banana pepper, also seeded and diced
1/4 cup of dried cranberries
1/4 cup organic apple cider vinegar
1/4 cup organic (and preferably local) honey
1/2 teaspoon mustard seed
1/2 teaspoon celery seed
Simply mix all together! For finer blended chutney, blend all the ingredients in a food processor. Easy as that!
What are some of your favorite summertime peach recipes?