Dear Friends,
You already know how our menus save you money, but this sweet bundle will save you a ton of time too (and isn't that what we need this time of year?). We've got all 7 of our Morphing Menus for just $37 (SAVING YOU OVER $30!!) CLICK HERE
SO WHAT EXACTLY IS A MORPHING MENU?
Glad you asked! These menus will cut your cooking time in half! Here's how Cook Once Eat Twice Menus work:
You take one recipe and make enough for leftovers. Simple enough, right? But who wants to eat the same thing over and over? (not me!) Here's where the morphing comes in to play. There are new recipes for the leftovers so you don't eat the same old thing night after night!
For example, your Grilled Polynesian Chicken morphs into Hawaiian Chicken Salad and your Salisbury Steaks and Mushrooms morphs into Smothered Tex-Mex Burgers. Can you say YUMmmm? I knew you would!
Our Now and Later menus work much the same way, only you freeze the second half of the recipe BEFORE you cook it up (making a freezer dinner kit for later).
This preserves the nutritional value (you're not reheating it like an icky Stouffers) and stocks your freezer for those super busy nights. No more cheap freezer dinners from the grocery store filled with preservatives and low quality ingredients. These are healthy, homemade, and ready to go!
Here's just a few temping recipes to get you drooling… Skillet Tomato Pesto Chicken, Serbian Shepherd Pie, and Totally Terrific Tortilla Soup just to name a few.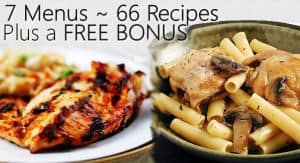 So what are you waiting for? Click here now if you want to save $33 today and get all 7 menus!
BUT WAIT… order today and you'll get our From Pantry to Freezer Menu (an additional 20 recipes) FOR FREE!!
That's 8 menus, 82 recipes, valued at $80 for just $37