Dear Friends,
Contrary to what you might think SavingDinner.com is about, we save more than just dinner. We specialize in saving all meals, including breakfast and lunch. Bet you didn't know that, did you?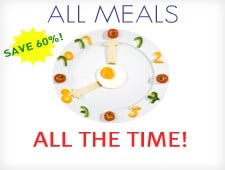 And to prove it, we've put together a TREMENDOUS bundle of goodies! We call it the All Meals All the Time Bundle, LOL! Check out what's in it–
First off, you've got Saving Breakfast (vol. 1 &2) and Saving Lunch (vol. 1, 2, 3 & 4). All in all there are 34 lunchtime recipes (like Hercules Wraps, Monkey Sandwiches and Super Hero Sandwiches to name a few of the fun lunches) and for breakfast there are 10 recipes–and as a bonus, volume 1's recipes are all freezeable; there are delicious breakfast recipes like Breakfast in a Quiche, Breakfast in a Burrito and even Breakfast in a Cookie (very popular with the kiddos!).
Then you've got our Body Clutter ebook, all 4 seasons with 40 exciting weeks of our Low Carb Menu-Mailer recipes, plus the bonus of the Daytime Menus, to keep you eating well AND (BIG BONUS) losing weight, just like Kathryn–
"You got me hooked 2 years ago when I was working 60 hour weeks & was too exhausted to think of opening the refrigerator let alone turn on the stove. I wasn't a good cook & since it was just my husband & me we ate out or did fast food 4-5 times a week. I got disgusted at the weight we were gaining & the money that was pouring out of our pockets. I've tried all of the menus but loved it when you brought on Low-Carb & was even MORE excited when you introduced the Body Clutter ebook!
Now with a baby on the way (we are adopting a one year old) my husband & I are in the habit of eating at least 5 meals at home a week, packing lunches & snacks for work & actually sitting down to dinner. We both have lost weight, my husband RAVES what a great cook I am, he is no longer a "picky" eater & the money we save is unbelievable! My child will get to grow up coming to the dinner table & eating healthy. I just had to let you know how special & wonderful you are! I tell everyone I know about what a life-saver you are & have given out many gift certificates. God Bless you for SAVING DINNER…breakfast…lunch…:-)" ~Kathryn
Thank you very much Kathryn! Glad you love our Body Clutter eBook (so do we!). Altogether, this big old bundle is retailed at $64, but today we're giving it to you for $37–the same price as the Body Clutter eBook, but with the Saving Breakfast and Saving Lunch package as well!
If that wasn't enough, we've got another couple of terrific bonuses–our Cooking Collection (which will help you organize all your Saving Dinner products) and our Manner-Minders; a terrific way to train your children into good manners at the table without nagging! You simply print off our Manner-Minders, pick one and work on a new manner for the week. Here's an example:
Don't forget, don't take a nap,
Put your napkin on your lap!
We know you'll love all the GREAT stuff in this bundle, especially considering it's ONLY $37 for ALL of this great stuff!
But wait. . .there's MORE!! As an extra super-duper special bonus, when you purchase the All Meals All the Time Bundle, you'll get a one-month trial of our acclaimed Menu-Mailer subscription absolutely FREE!! You'll receive the first week of your subscription right away with the rest of all your goodies. Then, for the next 3 Tuesdays, you'll receive an email to download your menu, shopping list and recipes for that week! We've never included a free month of our Menu-Mailer subscriptions as part of a sale before, so don't miss out on this!
Don't even think about it–get it ordered now and have Breakfast, Lunch & Dinner handled, your Saving Dinner plans organized, your children's manners contained AND your dinner planning handled for an entire month! We can help you with all of it–get yours now,
Love,
Leanne