Dear Friends,
It's baaaaack!
It's the time of year that has you scurrying to pick up school supplies, backpacks and lunchboxes. Yes, School, capital S, is just around the corner!
And believe me, I know you're putting out some cash getting your kids outfitted and ready to head back. It's not an inexpensive proposition! But let's get YOU ready to take on the family's dinnertime needs and keep your budget. Sound like a plan?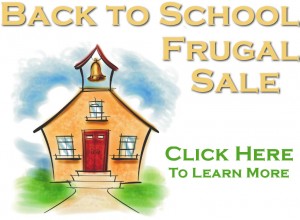 Back you go to carpools, after school care, kid's sports schedules and doing homework after dinner. But just what kind of a dinner do you want to make? How about EASY? Let's add cost effective and ample use of the crockpot and freezer meals, too. After all, you're going to be busier than everyone else!
That's why we threw together our Super Back to School Value Package–to get you the help you need to get the family back into routine and back to the dinner table as well. Here's what you get:
*Our entire Frugal eCookbook with 12 weeks of frugal menus for each season (that's 48 weeks of menus, with the grocery lists to go with them. That's 288 seasonal recipes with nutritional information, serving suggestions, exchanges and even Points! ($37 value) The Frugal eCookbook might be about saving you money, but it doesn't lack on flavor! How does Chicken and Pepper Stir Fry sound? Maybe you're in the mood for Saucy Pork Chops or Italian Cube Steak for dinner? Remember, the recipes are just recipes without a plan and this eCookbook delivers with 48 weeks of menu plans!
*Our entire Crock Cooker eCookbook with 12 weeks of crockcooking menus for each season (that's 48 weeks of menus; 288 seasonal recipes. All with weekly grocery lists, nutritional info and serving suggestions, exchanges and Points. ($37 value) In the Crock Cooker eCookbook, the recipes will blow you away–Crock Stroganoff, Crock Au Vin, Lemon Garlic Chicken Breasts, Mac and Cheese Casserole, all delicious and yummy and in your crockpot when you walk in from a hard day. Those are only SOME of what you'll find in the Crock Cooker eCookbook, there's 288 recipes!!.
That's a LOT of menu plans and a whole boatload of delicious, time saving dinners! But don't take our word for it; check out what a few of our raving fans have said:
"This week we have eaten well, enjoyed cooking together (funny how that happens.), saved $100 ($75 vs. the normal $175), and my office-mates are drooling over the aroma of my leftovers.  And I LOVE the variety."  ~Carla (Frugal eCookbook)
"Thanks so much for such a creative and easy method for meals!  We've really enjoyed our menus and last night's crock chicken recipe actually elicited groans of  delight.  Beefy Crock Stroganoff was another big hit, the leftovers were awesome." ~Becca (Crock Cooker eCookbook)
All of this would retail for $74, but today it's only $27!! You read that right–just $27!!!
But that's not all; you also get our 20 for the Freezer Crock Cooker recipes, absolutely F*ree! These are recipes you assemble for your freezer, thaw and cook up fresh when you need them. The ultimate Plan B! These recipes are major dinner savers and will rescue your dinner plans from the fast food lane with ease! Recipes like Crock Cranberry Beef, Crock Glazed Chicken, Savory Crock Cooker Stew, Crock Pork Marengo, to name just a few. Remember, you get the prep and assembly directions, plus the thaw and cook directions. A must-have for every busy household–see what Kristy had to say:
"I just wanted to let you know you have a new fan! I used to frequent the "assemble your dinner and freeze it" places, but I knew there had to be a cheaper alternative. When I tried finding freezer recipes on the Internet, all I could find were casseroles! A friend suggested your web site, and I am so thankful she did. Thank you so much!" -Kristy (20 for the Freezer)
All in all, this Super Back to School Value Package would retail for $94, but today, $27. That's right, $27!!
Take action TODAY and we'll pull out our Money Saving Tips from the vault and give them to you as well! WEDNESDAY ONLY, it's going back in the vault first thing Thursday morning!
Get busy, get to clicking==>$27<== Time's a-wasting! 🙂
Love,
Leanne