Dear Friends,
The most important key to serving up a quick, healthy and tasty dinner for your family day in and day out is proper preparation.
If you've ever struggled with the how to organize your shopping, food prep, and cooking so that you've got something good on the table each night of the week without ticking off your family (chicken agaaain?) or driving yourself crazy, you know what I mean.
To answer the how-to's of efficient dinner prep, we offer two clubs that solve this day-to-day problem. One club is for you, and the other is for your kids. Let me share more.
The first is our Frozen Chosen Freezer Meal Club. The FCFC makes the preparation part of dinner a thing of the past by getting your dinners all prepped at the same time and then tucked away in your freezer to be pulled out at a moment's notice. This club is for you if you're a fan of our freezer meals and want MORE from your freezer (and more yummy menus to keep it well stocked!).
Here's how the Frozen Chosen Freezer Club works. After you become a member, you will receive 10 brand spanking new freezer recipes available only to our members once a month. (That's right — these recipes are reserved for our club members ONLY. You won't see them anywhere else.)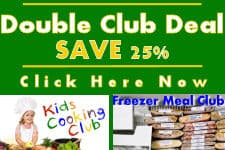 The first month you will receive 10 chicken recipes; the following month, 10 beef recipes; the third month, 10 pork; and the fourth, 10 fish/seafood. Then the rotation will start over again, giving you a year's worth of mouth-watering, time-saving freezer meals for your freezer. That's 120 exclusive members-only recipes a year to make your cooking time a SNAP and give your friends freezer envy!
The second is our Kids Cooking Club. In this club, your children learn more than just a recipe. They learn valuable kitchen skills such as choosing ingredients, proper knife technique (if they're old enough), and flavor combining. They also learn the fundamentals of nutrition. It's deceptively simple, yet we've designed the program so that your child progressively improves their skills so that one day…. voila! An accomplished cook!
You can join either club for just $10 a month (a recurring monthly charge), or you can join BOTH for just $15 (also a recurring charge).
If you're already a member of one club but would like to join the other for just $5 more, we can do that! Go ahead and purchase the special, then email customer service (Leanne Ely at Saving Dinner dot com). Sally will reset your membership so you can enjoy this great deal!
We know you'll LOVE both clubs, and so will your kids. Join today!
Love,
Leanne
P.S. How much money have you wasted by buying ingredients you didn't use, or spent on last minute take-out because you had no plan for dinner? Don't worry, we've all done it, but now there's no excuse. Always have a plan and stop the waste by joining the Frozen Chosen Freezer Club today. I'm sure you'll agree that it's more than worth $10/month for the money, food and time you'll SAVE.