Dear Friends,
This week, I want you to stop cooking. You read that right–stop cooking! Cut it out, leave it alone, walk away. Throw down your oven mitts and go take a long bath. When you're done, come on back here…we need to talk.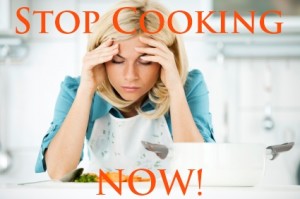 This is the deal–day after day, it just gets tiring. Here we go again–one more meal to cook. You get out the ingredients, you prepare them; you wash them, chop them, cook them up and dinner's made. Serve it, eat it, clean it all up and start over the next day.
What if you could shortcut the whole process down to a quick and dirty, BAM, in and out of the kitchen you go? You know what I'm talking about…almost a heat and eat kind of a deal. We have some really fun menu plans that will do JUST that, with our Fast and Easy, Make it Quick Hoo Hah. We're talking cinchy, chicas!
Here's our big bundle of nom noms:
*Rotisserie Chicken Volumes 1 & 2 (volume 2 is brand new!)
*Fast & Easy Menu Volume 1 (brand new; using easy convenience foods)
*5 Ingredient eCookbook
Now let me tell you about them–
You know those fabulous chickens at the grocery stores that are already cooked for you? We'll now you know what to do with them, because we've got super simple, assembly type meals for you to make with those ready to go chickies. Deliciousness awaits your family from volume 1 with meals such as Not Your Papa's Barbecue Chicken Pizza, My Big Fat Greek Chicken Sandwich, Chinese Style Rotisserie Chicken Salad, Chicken Fried Rice and Chicken and Pepper Scramble.
Brand new volume 2 has Chicken Pocket Pies, Buffalo Blue Sandwiches, Chicken Enchiladas, Chicken Tetrazzini, Chicken and Cannellini Soup…yum!
Our new Fast & Easy Menu, Volume 1 has 10 easy, easy recipes using some great convenience foods that will help you get dinner on the table in a flash! Check these tasty recipes out: Chicken Margherita, Chinese Dumpling Soup, Pasta Cabonara, Pesto Veggie Pizza, Citrus Chicken Pasta
And last but not least is our 5 Ingredient eCookbook. Inspired by our subscribers, this eCookbook was asked for specifically! And we delivered. How does Honey Lime Chicken, Garlic Ginger London Broil, Bacon Ricotta Penne, Cajun Shrimp Skillet, Caramelized Onion Pork Tenderloin and Southwestern Slow Cooker Beef and Veggies sound? Drooling yet?
We have ALL of this fabulous fast, shortcut ways to the dinner table for only $22 today. So individually, this would cost $37, but today it is only $22!!
Stop cooking. You heard me! Put down that skillet and get with the program! ====> $22
Love,
Leanne
P.S. Hey, I almost forgot! Lots of people are asking for the bonuses from last week's special So we're EXTENDING our invitation for the newest Menu-Mailer, the Paleo version! Click here to read more ==>CLICK