Dear Friends,
We're blowing it out of the water and we're not kidding. Summer's goodies are about to be gone, gone, GONE!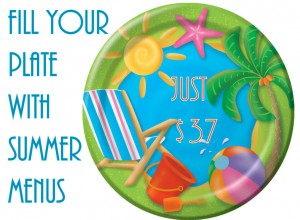 What am I talking about? Our very popular Summer Menus which include:
.       Summer Smoothies (Vols 1 & 2)
.       Summerama – Summer soups, sandwiches and slaws
All of these marvelous menus are quickly becoming scarce because we're throwing them in the vault and then that's IT for the year!
Our fabulous summertime solutions help keep you COOL in the kitchen. Delectable but easy sandwiches such as Pesto Sliders, Italian Meatball, Greek Gyros and Sunny California Chicken. My favorite slaw is in there too: Asian Slaw, plus Crunchy Peanut Coleslaw, Broccoli Slaw and more.
Then there are smoothies galore, including Key Lime Smoothie, Creamsicle Smoothie and Pina Colada Smoothie – just to name a few of the 19 outrageously yummy smoothie recipes!
And our Summer Grillerama is mandatory summer cooking with 10 amazing marinades, another 10 dry rubs and of course, some fabulous summery salads and side dishes you'd be proud to have at any cookout or potluck. Are you ready to light the grill?
Plus our Salad Selection – 3 volumes with 25 main course salads in all, and 7 easy recipes for incredible homemade dressings!
ALL of these Summer Solutions to keep the heat out of your kitchen – retailing for $71 on a normal day – are just $37 today!
And that's not all. We have a special Fast Action Bonus as our GIFT to you when you order TODAY only – our popular "20 for the Freezer" Grilling Menu.
If you haven't done one of our Freezer Meals before, this is a GREAT place to start. These freezer menus will round out your mealtime solutions like nothing else!
In the 20 for the Freezer Grilling Menu, you've got 20 recipes – 5 each of beef, fish, chicken and pork – that you assemble raw, throw in the freezer and when you're in a pinch, you thaw it and cook it up fresh. ALL the heavy lifting is done at assembly time. Easy peasy! This normally costs $20, but it's F*R*E*E when you order our special Summer Menus Package TODAY ONLY.
So what are you waiting for?
Get our End of Summer Blowout Special today for just $37!
And remember, when you act before midnight ET tonight, you'll not only get ALL of our Summer Menus (value $71), but you'll also get our 20 for the Freezer Grilling Menu (value $20), for a total value of $91. That's almost 60% off!
But HURRY. Once it's gone, it's GONE and you won't see it in our store until next year (and certainly not for this price!).
So go on, get our entire selection of Summer Menus + 20 for the Freezer Grilling Menu RIGHT NOW!
Love,
Leanne