Dear Friends,
Baby, it is HOT out there! I don't know about you, but heat, humidity and more heat just makes me cranky. Add a steamy stovetop to the mix and I'm a hot mess with an attitude! Get me out of this inferno of a kitchen!
That's when Summer Salads and Smoothies swoop in to the rescue! All new, there are 15 delicious new smoothie recipes and 10 new main course salad recipes along with 5 bonus salad dressing recipes to help you keep your cool! Delicious salads like Avocado BLT Salad, Buffalo Chicken Salad and Strawberry Fields Salmon Salad. These salads make dinner fast, delicious and don't heat up the kitchen. How can you not love that? Add to the salad mix our brand new Smoothie menu, delicious new smoothies like Lemonade Smoothie, PB & Chocolate Smoothie and Kiwi Melon Smoothie. Now you're cooking for breakfast, lunch and dinner!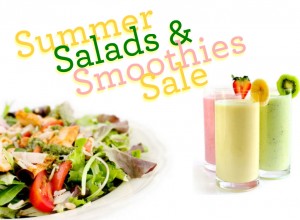 And to sweeten an already sweet deal–we're throwing in Summer Salads, volume 1 and Summer Smoothies, volume 1 as well. Great salads like Blue Cheese Steak Salad, Tostada Salad and Mandarin Orange Teriyaki Chicken Salad and scrumptious smoothies like Pineapple Upside Down Smoothie, Tropical Peach Mango Smoothie and Simple Strawberry Smoothie. A $20 value, they are F*R*E*E today!
So check this out–$17! That's it! For 30 amazing smoothies, 20 main course salads and 8 salad dressing recipes that will rock your socks off and keep your kitchen from heating up. How cool is that? (literally! LOL)
And by the way, TODAY is IT for Break Free Boot Camp. Regularly $297, we've got it down to just $97, but only till midnight tonight, then BACK IT GOES, into the vault! You won't believe all the goodies you get and how amazing it is to finally Break Free from the foods that have held your health hostage for maybe years?
Last year JJ and I hosted two live 28 Day Break Free Boot Camps that were a HUGE success. (Don't believe me? Check out some of the success stories at https://savingdinner.com/breakfree/). This year, we've been fielding non-stop requests to host another program, but frankly, we're both very busy ladies and it's been near impossible to sync up our schedules.
Our solution? We've transformed the 28 Day Break Free Boot Camp into a complete e-course that you can do on your own schedule, when it's convenient for you. We're so excited about this because it means you get all the benefits without the waiting!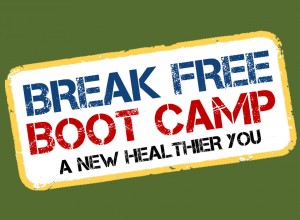 Even better, we've thrown in $355 worth of incredible bonuses, including our Ultimate Meal Assembly Guide (plus an Allergy-Free version), our Break Free from Sugar Addiction e-course, JJ's "7 Step Plan to Heal Your Gut and Overcome Your Weight Loss Resistance" e-course, TWO amazing menu bundles from me, and a LIVE Q&A call later in July with myself and JJ.
PLUS, Think & Grow Thin: 20 Strategies to Effortlessly Shrink Your Plate… and Your Waist!" created by JJ will be thrown in as well! (great stuff, I LOVE this!).
All this means you get $552 in value for just $97.
What's not to love about that?
Check it out now and get instant access to the Boot Camp:
https://savingdinner.com/breakfree/
Enjoy!
Love,
Leanne