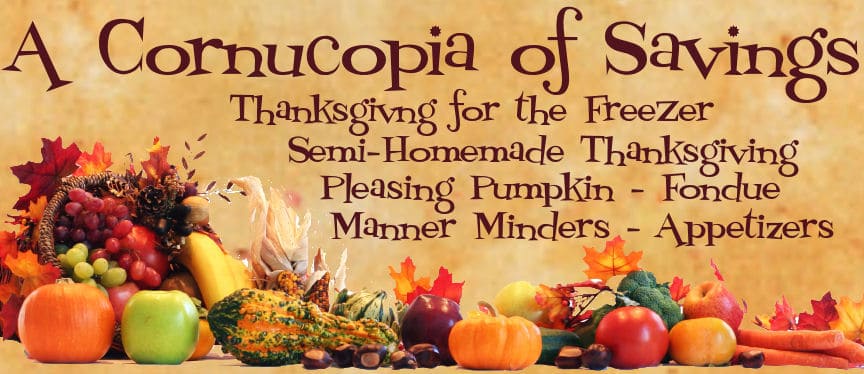 Dear Friends,
It's almost Turkey Time which means cooking, cooking, cooking… Even if you're just bringing a dish or responsible for one item this year we can help you out. Our tried and true Thanksgiving menus have helped thousands get Thanksgiving dinner on the table without all the stress that comes with preparing such an epic meal.
Even if you're only going to Granny's for dinner and your only worry is bringing well-behaved children, we've got you covered there as well.
Whether you're cooking or not, regardless what your plans are this year we want to help, so we've created our own Cornucopia of Savings, a gigantic bundle of holiday recipes, menus, shopping lists, time-lines and holiday goodies designed to help you as we begin the holiday countdown.

Here's what you'll get in this delicious package….
* Semi Homemade Thanksgiving – Loaded Baked Potato Casserole, Quickie Stuffing
* Thanksgiving for the Freezer – Praline Squash, Autumn Greens, Chocolate Pumpkin Loaf
* The 'free' Traditional Thanksgiving Menu
* The SD for the Holiday's Thanksgiving Planner
* Manner Minders – your children's manners will be stellar by Thanksgiving!
* Fondue Fun – includes recipes like South of the Boarder Fondue, Chocolate-Peanut Butter Fondue, S'Mores Fondue, Caramel Fondue
* Appetizers – Olive-Nut Dip, Cheese Balls, Crock Juicy Meatballs
* Pleasing Pumpkin – Creamy Pumpkin Dip, Pumpkin Waffles
Delicious doesn't begin to describe the delectable, mouthwatering festive recipes, plus this bountiful bundle gives you the practical help you need to "do" these holidays right!
This bundle would regularly sell for over $55 but today it's just $17. Can you calculate the savings? I cant, my math skills are overwhelmed, but it is ginormous, LOL!
I can tell you that you won't see a savings like this until next year at this time so grab it while you can (remember, these menus work great for Christmas dinner too!!)

CLICK CLICK CLICK ============>  $17  <============
With Thanksgiving,
Leanne