Dear Friends,
That's what one active participant (Linda) had to say on our 30 Day Paleo Challenge Facebook page:
🙂 It's an exciting bonus to feel good, lose weight and have a great community, don't you think?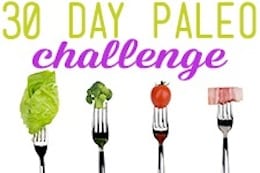 You should see the comments flying! The food is great (one of the posts said their meal was "a delicious success"!) and the community we have created for support is just exactly what we all need!
It's not too late! Join us! You're going LOVE how easy this Challenge is, the community, the incredible FOOD and wow, the WEIGHT LOSS! Look what Sara had to say:
"I starting playing with the recipes last week and lost 2 pounds… today was my first full day without cheating and I lost 2 more pounds since this morning!!!"
It is not too late to join us and become a part of our community!
Love,
Leanne
PS–I'm in there too! I share what I'm doing & answer questions. Come on down!