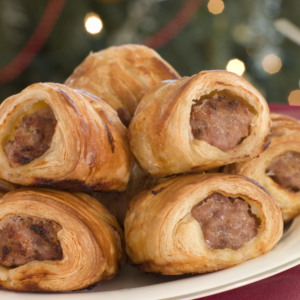 Peter's English Sausage Rolls
My British father (Peter) made these when I was growing up. I liked to dip them in mustard; my dad ate them plain. They're greasy and tasty all at the same time. Something you exercise that 10% rule with! (90% of the time, you eat really healthy. 10% of the time you have fun!).
1

pound

sausage meat

my dad used Farmer John's bulk breakfast sausage

1

17-oz package

frozen pastry sheets

(Pepperidge Farm), thawed

1

egg

beaten

Dijon mustard

optional
Preheat oven to 400 degrees.

Unfold the pastry sheets carefully, and cut along the fold lines to make 6 equal squares; there are 2 sheets, so you will have 12 squares total.

Divide the sausage into 12 pieces and roll them into little logs. Now roll the dough around the logs, place on a jelly roll pan and brush with the beaten egg.

Bake for about 20 minutes or until they are puffed and golden and the sausage is cooked inside.