Dear Friends,
When the weather outside is cold and frightful, it's nice to cook up something warm and delightful–especially hearty soups and casseroles! Tis the season for comfort food, folks!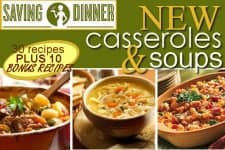 And today we are offering a brand spanking new menu–our Soups and Casserole Menu with 10 new soups, 10 new casseroles and 10 other soup recipes that become casseroles (or is it the other way around?) Either way, they are an amazing time saver; you basically do the heavy lifting cooking once and doctor up the leftovers and change it into an amazing new dish! It's the bomb!
Here are the great soups you'll get in our newest menu—
Adobo Chicken and Sweet Potato Soup
Loaded Baked Potato Soup
Spicy Asian Noodle Soup
Grandma's Cure-All Chicken Noodle Soup
Curried Pumpkin Soup
Easy Cheesy Pizza Soup
Cream of Beefy Mushroom Soup
Tomato-Basil Soup
Brazilian Black Bean Soup
Hearty Tortellini Soup
And then there are the mouthwatering casseroles—
Ham and Cheese Brunch Casserole
Smokin' Chipotle Mac and Cheese
Inside-Out Chicken Divan
French Quarter Shrimp and Grits
Mediterranean Strata
Chili Cornbread Casserole
Italian Artichoke Casserole
Chicken Parm Casserole
Turkey and Corn Casserole
Stuffed Pepper Casserole
Plus the Casserole to Soups—
Chorizo and Egg Casserole
Sopa Castellana (Castilian Garlic Soup)
Ratatouille
Tuscan Eggplant Soup
Chicken and White Bean Cassoulet
Chicken and White Bean Soup
Cheesy Ancho Beans
Pinto Bean Chili
Beer-Braised Beef Tip Casserole
Beef Stew
All of these great recipes, the shopping lists, to go with them (why not make your week a soup and casserole week?) all for just 17 bucks! click, click —->$17 !!
BUT…because we love you and we too HEART Casseroles and Soups, we've pulled out our very first Casserole to Soup Menu from the vault! You get that one absolutely F*R*E*E!!
Chicken Broccoli Alfredo
Chicken Broccoli Soup
Chicken and Potatoes
Crock Chicken Chowder
Beef Spinach Bake
Oriental Beef Soup
Sicilian Beef
Tuscany Beef Soup
Black Bean Bake
Tortilla Soup
ALL of these soups and casseroles for just $17. You'll LOVE how warm and toasty they'll make you feel! Get yours today! —->$17<—-
Love,
Leanne