Dear friends,
It's the time of year for celebrating. How would you like to join us for a virtual eCookbook party? How fun is that? We've got e-appetizers and I'll be making an e-appearance, LOL! Well in spirit anyway…I'm very excited for you to take a gander at our newest addition to our eCookbook store.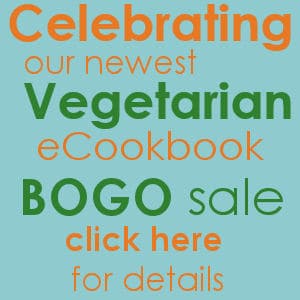 VEGGIE ebook Vol 2 (even if you're not vegetarian this ecookbook is loaded with yummy recipes!) Chickpea and Eggplant Curry, Island Salad, Easy As ABC Minestrone Soup, Mediterranean Pitas, and Asparagus Linguine just to name a few.
Taken from some of our favorite Menu-Mailer recipes, this all-inclusive e-book contains eight weeks of six wonderfully balanced and seasonal vegetarian dinners! Each of those weeks includes our famous shopping lists, nutritional data, and suggested side servings along with Gluten Free Options! Dinner time has never been easier!
Here's how you can save:
1. Load your shopping cart with our newest ebook plus TWO more
2. Enter coupon code "cookbogo"
It's that simple. Buy any eCookbook valued at $37 and get another one FREE PLUS our newest Veggie eCookbook FREE TOO (valued at $15). That's saving you $52!!! WOWZA!
Now is the time to stock your e-shelves. Get your ebookcase filled up with all your faves…we have Crock Cooker eCookbook, volumes 1 & 2. We've got the famously blogged about Frugal eCookbook, there's the Vegetarian eCookbook, Body Clutter ebook and Regular ebook for Two. Am I missing any? You know there are more! What are you waiting for? Get clicking!
<<< CLICK HERE NOW >>>
Love,
Leanne
PS. ECookbooks make excellent gifts for teachers, friends, neighbors, and family. Stock up today!