Dear Friends,
This is going to be short and sweet and all over the place, LOL, so I numbered everything, 1, 2, 3. Put on your seatbelt and enjoy!
1) Today is our huge catalog sale with everything we have* on sale for 20% off!  Click on this link to see our humongous catalog page…bet you didn't know we had over 100 mealtime solutions , did you?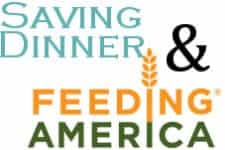 2) Now for a complete change of subject, one that is truly shocking. Did you know that 1 in 6 Americans does not have access to enough food? Sadly, there are over 14 million children who live in food-insecure households and there are 49 million Americans who do not get enough food every day. You read that right–49 million!
3) This sale is for a much bigger purpose than just having a sale–we also want to help Feed America. Look who is helping us in this quest!
I know you remember hunky John Schneider from Dukes of Hazzard? Oh yes you do (hey, he's also on Desperate Housewives right now!) and now that you have all recovered (thanks John for the shout-out!), 20% of this sale is going to FeedingAmerica.org
I don't have to tell you about all the great things we have–they're all sitting there on that pretty little catalog page, take a PEEKAnd help us Feed America, will you? Get yourself something you want to help feed your family and feed a family in need as well.
That's it, I'm done. Told you it was short and sweet!
Love,
Leanne
*except Menu-Mailers (TM) and Premium Memberships