Before and After: Leanne Reveals All!
Dear Friends,
Six years ago, after being diagnosed with hypothyroidism, I weighed in at my all time high of 237 pounds. That picture you see is me speaking at the grand opening of FlyLady's first office and warehouse in 2004. Take a good look–I'm all in black so its hard to see and yes, I'm all in black for a reason. Black is slimming you know; I'm wearing a size 18 and those pants are TIGHT.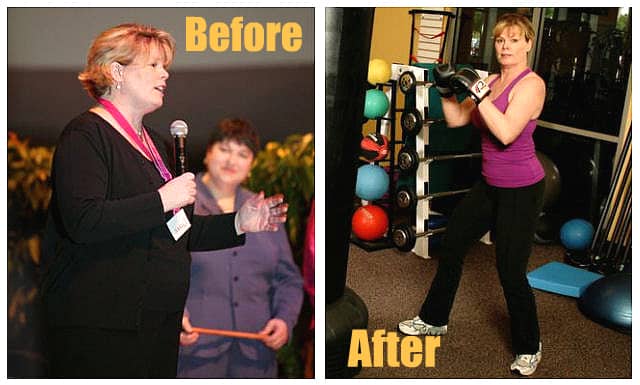 A friend of mine told me she thought I looked pregnant. She wasn't being mean, but when she heard me gasp when she sent me those pictures (we were on the phone talking and I was looking at them on computer after she sent them), she was honest enough to tell me the truth–I did look pregnant and that was all belly fat trying to hide under that black shirt.
A few months after those pictures were taken, I began my big weight loss journey and lost 52 pounds. I did it with a combination of careful eating, exercise, lots of water and a lot of introspection. This journey is chronicled in the New York Times bestselling book Body Clutter, a book Marla Cilley and I wrote together about the relationship of clutter on your body and the clutter between your ears–it's HUGE and makes all the difference!
Two years ago, encouraged by a lot of people who wanted to know how I did it, I decided to update and write out my own program, Losing it with Leanne. I employed the principles I used before, but updated and changed them up a little so that the plan used babysteps to build important new habits. For example, each week there's a different focus–fiber one week, the color green the next, portion control another week and then of course, there is the super sonic Plateau Buster because we all get stuck. It worked wonderfully for me, I shared it with my friends here and well, it just plain WORKS! Here's a Facebook message I just got today from Pam–
"Hi, Leanne. I purchased your LWL and started your program during the first week of December…I've lost 11 pounds and couldn't be happier. (Your plan is easy to follow.) Even my hubby, who probably should lose quite a bit, is drinking lots of water, and beginning to watch carbs…because he saw that it has been fast and easy to lose the first 11…that's exciting!"
I sent Pam my hearty congrats on she and her husband's weight loss. 🙂
We have our Losing it with Leanne Bundle for you today so you can begin your own weight loss journey and maybe, like Pam, you'll be sending me an exciting testimonial on Facebook too! The bundle includes the Losing it with Leanne Plan in BOTH the regular and gluten free versions, as well as our Shape-Ups, quick and easy beginner exercises to get you started. Super simple, easy to implement and (if you do it) wonderful results!
Don't put this off for another minute–we've got both plans (regular and gluten free), plus the Shape-Ups for just $27, that's it! Now remember–that's half off, plus the Shape-Ups–I really want you to do this with me!
Let's put 2010 behind us and make 2011 amazing! Start TODAY–I'll be checking in with you on Facebook!
Love,
Leanne