Dear Friends,
In most of the United States, we "sprung forward" this past Saturday for Daylights Savings Time and lost an hour. No, not literally, but you get the drift; especially if you needed to get up early the next day!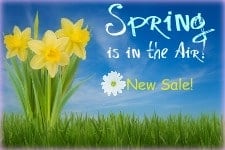 But this Spring Forward business (and loss) is your gain–we've got a great deal for you with a bundled bunch of goodies you're going to love as the weather starts to warm up!
For springing into action, you'll get our Regular Ebook Spring, Crock Cooker Ebook Spring Volumes 1 and 2, Frugal Ebook Spring and Body Clutter Ebook Spring.
How does Crock Chicken Santa Fe, Broiled Fish with Ginger Butter and Baked Ziti Con Queso sound? Mouth watering yet? Maybe you'd like Basil Chicken Tenders, Nutty Chicken and Veggie Stir-Fry and Beer Braised Pork Chops or how about Sweet and Sour Crock Shrimp and Southwestern Frittata? Yeah, just what I thought…you and me both, we love spring! Especially the fresh food, crisp new veggies and delicious lighter cooking. It's time to shed the old parka and put on some short sleeves!
If you're excited to Spring into Spring…we have all this, a $75 value for just $37!! Yep, that's 3-7. $37 only! Click here, get saving ===> $37 <===
So now that we have you jazzed for spring, maybe you're more interested in…a vegetarian paradise? Yep, we've got that too.
Check it out–veggies the world around, delight in this cornucopia of savings including our Vegetarian Ebook Volumes 1 and 2 as well as our Vegetarian 20 for the Freezer. You don't have to be a vegetarian to enjoy these tempting dishes Black Bean and Veggie Wraparitos, Chilies Rellenos Casserole and Portobello Burgers or these yummy treats: Island Salad, Creamy Mushroom Pasta and Barbecue Confetti Pasta. That's what I'm talking about…food that is fresh and fabulous!
You get all of this, a crazy value of $72 for just $27!
But if you want to REALLY save, get BOTH for only $47 (regularly $147)!! Yes, that's over 600 recipes with shopping lists, serving suggestions and all the nutritional information…ALL OF IT, for a mere $47.
You can do it how you want it, Spring Forward bundle for $37 or the Vegetarian Paradise Bundle for $27
OR BOTH FOR JUST $47!!!

BUT WAIT!! As an added bonus (and this is a big juicy bonus), when you purchase BOTH bundles, you'll receive a $20 Saving Dinner gift certificate FREE! Yep. . .you read right! *FREE*!! Yours to shop to your heart's content for any of the products on our website! So that's both bundles PLUS a $20 Saving Dinner gift certificate for only $47. . .a savings of over 80%!!
Have it your way!
Love,
Leanne