Food For Thought
The New Year Brings a New and Improved Saving Dinner Fundraising!
By: Daniel Munns
Many of you know that we recently created Saving Dinner Fundraising to offer organizations looking to raise funds a simple and healthy alternative to the common fundraisers. We know a lot of you cringe just as much as we do when you see those cookie dough, candy bar or doughnut fundraisers come to your door. Our goal with Saving Dinner Fundraising is to offer a solution that not only supports the Saving Dinner mission of getting families back to the dinner table, but also allows groups to make money for their cause! Our hassle-free online program allows groups to earn 50% profit from selling popular Saving Dinner menu-planning products we can all use!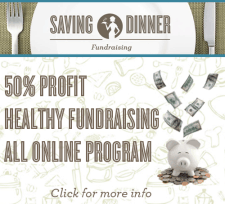 Over the last year, Saving Dinner Fundraising has helped schools, teams, church groups, scouts and other organizations raise funds through the sale of custom fundraising packages consisting of Saving Dinner's most popular digital ecookbooks and menus! A new year is here, and with it we want to announce a brand new Saving Dinner Fundraising program! Features of the new and improved online program include:
•Customizable Fundraising Pages: Each organization has their own branded fundraising site where they can direct supporters. See a sample group fundraising page HERE.
•Improved Sharing Features: Now simply share the fundraising page of the group you are supporting to Facebook, Twitter, Google +, and email with the touch of a button!
•Detailed Control Panel: Once you create your organization's fundraising account, you will be given access to a control panel with email templates, videos and other tips to make your job of creating and promoting your fundraising page fun and easy!
•Personal Account Manager: Each organization that creates an account with Saving Dinner Fundraising will have access to their personal fundraising account manager to answer any questions and to provide tips to make the program more successful!
Are you part of the team that decides the fundraising program for your kid's PTA/PTO, sports team or scout group? Or do you know someone or someone that is constantly looking for a new fundraising alternative? Click HERE to learn 10 reasons why you should choose Saving Dinner Fundraising for your next fund drive, or feel free to forward this email along to someone you know that might be interested! If you have any questions about the program or just want to learn more, send us a note at [email protected].
Finally, join our growing community on Facebook to get all the latest updates on the program and to learn how other groups are using Saving Dinner Fundraising to support their cause! Let us know you were sent to the page by the "Daily Dish" and we will automatically enter you in our contest to win a signed copy of Leanne's Saving Dinner book!