Dear Friends,
As most of you know, we've been in business for 11 years, proudly and happily Saving Your Dinner each and every week. Our core product (in addition to our fabulous e-cookbooks, specialty menus and more) is the original Menu-Mailer, a subscription offering you weekly menus, recipes, an itemized shopping list, nutritional information and suggested serving suggestions. Yes, there are "other" Menu-Mailers out there (you'd think the copy cats could at least come up with an original name!), but the original and genuine Menu-Mailer comes from yours truly here at SavingDinner.com.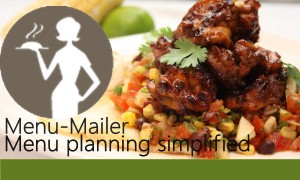 Menu-Mailer goes on sale ONE TIME a year.
Today is that day. If having your weekly "what's for dinner" stress handled with our nutritionally sound weekly menus sounds like a good stress reliever, now is the time to get cracking and buy your subscription TODAY. Check out what long time Menu-Mailer subscriber Jamie had to say about her subscription:
"I just wanted to write you tell you what an impact Menu-Mailer has on our lives. I watched my mom in the kitchen and she hated it – she resented cooking special meals for my steak-and-potatoes father, and it seemed a drudgery to prepare food for her 4 children; so food was not a happy thing in my home growing up. In MY home, mommy and daddy are working at this together and having fun! I truly believe making the kitchen a happy, fun place can help our children and prevent eating disorders, teaching them to be good cooks. There are many more advantages that I don't even realize! Menu-Mailer has helped our family." ~Jamie
If you would like Menu-Mailer to help your family the way its helped Jamie's, we are offering our yearly subscription for only $27 — that's $20 off the yearly subscription of $47! If you're already a Menu-Mailer subscriber and want to extend your subscription, we can do that…just buy your subscription and we'll tag it onto the subscription you already have and love!
Each Menu-Mailer comes to you each week with your choice of menus–regular (great for families), paleo (I'm doing this one!), low carb (counting carbs? this fills the bill), Heart-Healthy (follows the AHA guidelines) and a Body Clutter Day Menu (breakfasts, lunches and snacks). Choose what you want–each menu has its own shopping list!
Here are 2 things you need to do to get this very special deal–1) act now & buy your subscription, and save yourself nearly 50%. 2) Then tell all your friends–this is not to be missed!
You will NOT see this sale again this year, that's a wholehearted promise! So get yours TODAY, ===> $27 <=== almost 50% off!!
HURRY!! This offer has a DEFINITE expiration date and will not be repeated this year; I don't want you to miss out!
Love,
Leanne
P.S. This is our biggest sale of the year, so please be patient with us (and our system) as we work to get through all of the subscriptions! Also, be sure and whitelist Leanne Ely @ SavingDinner. com (REMOVE SPACES) to make sure you receive our emails!