Her media experience includes multi-city book tours, satellite media tours, QVC several times as well as guesting on several national television shows, including HGTV's Simple Solutions, ABC Family's Living the Life, Ivanhoe's Smart Woman, Small Talk for Parents and Talk of the Town. She has guest chef-ed on the cooking show, Carolina Cooks and has taught cooking classes all over the country for Bloomingdale's.
In addition, she is a seasoned radio personality. Leanne's own radio show, Heart of A Woman aired during drive time in two major California markets, Los Angeles and San Diego. Her current show, Saving Dinner with the Dinner Diva airs each Wednesday afternoon on BlogTalkRadio.com and is one of the top ten shows on that channel. Leanne's weekly syndicated newspaper column, The Dinner Diva goes out to over 250 newspapers nationwide and in Canada.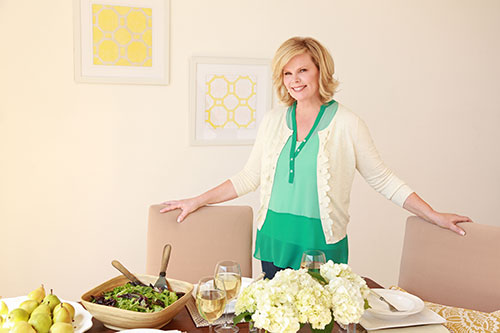 On the Internet, she pens the Food for Thought columnist for the immensely popular, FlyLady.net, with over half a million readers several times a week.
She has been featured in Woman's Day, Parents, Redbook, Self, and Shape magazines to name a few. Leanne has also been featured in the Chicago Tribune, New York Times, Boston Globe, St. Petersburg Times, Orange County Register—and many other major newspapers.
Additionally, she is a sought after speaker and has spoken all over the country, with keynote addresses to corporate and non-profit entities.