What's an Italian meal without a good hit of basil? I enjoy making pesto with good quality olive oil, pine nuts, and my own homegrown basil. I like adding my basil to soups, stews, and salads, too. Basil is great in pasta sauces, meat marinades, on top of a pizza, and of course, you can't have a proper Caprese salad without it!
Fresh basil isn't only versatile and delicious, it's also good for you. Basil is high in vitamins A and K, magnesium, calcium, and iron and it contains many trace minerals. Basil is also considered a healing herb with inflammatory and antibacterial properties!
There really is no comparison between fresh basil and the dried variety you have in your spice cupboard. I find that with herbs like basil, parsley, and chives that are tender and soft when fresh, you almost need to eat them fresh to get any flavor out of them. This doesn't seem to matter as much with the woodier herbs like thyme, rosemary, and oregano which seem to retain their flavor much better when dried.
If you haven't already started your basil seeds, now's the time! You can get all of your herbs a head start on the growing season by planting them now, but because basil doesn't do well with cold, if you're in a cooler climate, this aromatic herb definitely needs to be started indoors anywhere from 4 to 6 weeks before the last frost. If you don't have a green thumb, you can buy basil plants from the nursery or from most grocery stores. Remember to buy organic!
Now, it's time for today's Trick:
To get the most out of your fresh basil, add it at the end of cooking. That way the flavor will still be bright when you serve it.
Your Tip:
If you have some basil in the spice cupboard and you want to use it up, add it to your dish when building the flavor base, when you add your other seasonings, then brighten it up by adding more fresh basil at the end.
And your Recipe: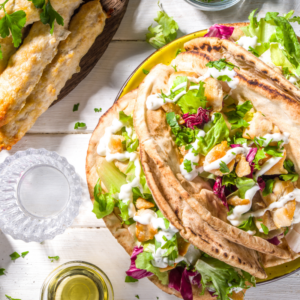 Greek Chicken Gyros
Ingredients
1

cup

plain yogurt

1

cup

crumbled Feta cheese

1/4

cup

chopped red onion

2

teaspoons

lemon juice

4

whole wheat flour tortillas

warmed

2

cups

shredded chicken breast meat

cooked

2

medium

tomatoes

sliced

2

cups

baby arugula

1/2

cup

sliced black olives

1/4

cup

chopped basil leaves
Instructions
In a medium bowl, mix together yogurt, Feta, red onion and lemon juice; spread mixture evenly on the tortillas.

Sprinkle with shredded chicken and top with tomato slices, arugula, olives and basil.

Roll up and wrap each roll in a piece of parchment paper to help hold everything together and make it easy to travel.