As far back as 100 BC, Romans were drying pork legs in salt to create the delicacy known as prosciutto. Not familiar with this form of pork? Well, if you enjoy bacon then I'm willing to bet you will absolutely fall in love with prosciutto.
Prosciutto is a dry-cured ham that comes from Italy. The ham used to make prosciutto is specially selected, based on the right amount of marbling and the right amount of surface fat.
It takes anywhere from nine months to a couple of years to produce the perfect prosciutto. First, the ham must be cleaned and salted before being left for the blood to drain from the meat. This takes at least a couple of months. It is then washed to remove all of the salt and hung to dry in a temperature-controlled environment for eighteen months or so.
Prosciutto is delicious with spring vegetables (try wrapping it around a bundle of asparagus and roasting…mmm!), wrapped around pieces of melon, as an ingredient in a frittata, or simply enjoyed on an antipasto platter with cheese, olives, and other cured meats.
The nutrition profile of prosciutto is not wonderful as it doesn't contain a lot of vitamins and minerals, but the taste makes it worth enjoying as a treat from time to time!
Now, it's time for your Trick:
For something special, when cooking chicken breasts, wrap them with sliced prosciutto before roasting them. Yum!
Your Tip:
When it comes to prosciutto, go for the real deal and buy the Italian variety over the American. In my opinion (and this is only my opinion, folks!) we haven't quite gotten it right yet.
And your Recipe: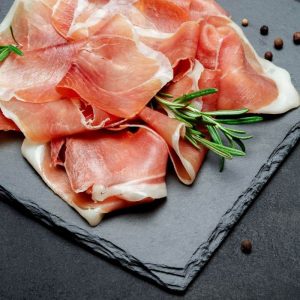 Turkey Saltimbocca
Ingredients
1

boneless skinless turkey breast

3-pound

3

ounces

Prosciutto

sliced

3/4

teaspoon

sage

Salt and pepper to taste

3/4

cup

white wine

or use white grape juice with splash of vinegar

1/3

cup

low sodium chicken broth

Parchment paper

String
Instructions
Place turkey between two pieces of parchment paper. Using a mallet or rolling pin, pound the turkey breast to a thickness of about 1/2 to 1 inch, then remove top piece of parchment.

Starting in the center of the turkey, cover with Proscuitto, leaving a border or edge of about 1 inch on all sides that is ham-free.

Sprinkle with sage and salt and pepper to taste.

Starting on the shortest side of the flattened turkey, roll it up jelly roll style into a tube or cigar-shaped log and tie it with string in about 3 or 4 places to hold the roll in place.

Pour wine and broth into slow cooker, then carefully lower turkey log on top.

Cover and cook on low heat setting for 5 to 6 hours.

Remove turkey from slow cooker and let sit for about 5 minutes before slicing.
Looking for more delicious recipes like this one? Check out our Dinner Answers program today!