Food for Thought
Once a Month Cooking Myths
by Leanne Ely, C.N.C
Now I'm not here to knock down Once a Month Cooking (OAMC). I love the concept. In fact, our 20 for the Freezer menus were inspired by OAMC. However, we took it a step further and improved the system with our freezer menus.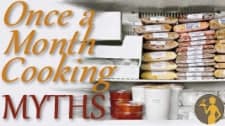 Our meals are actually assembled and not cooked; you cook them up freshly once thawed. All the heavy lifting prep work is done, frozen and ready to go when you are. Get it? Basically our Freezer Menus are the 2.0 version of OAMC. Our method is faster, easier, better for your budget and healthier.
So let's bust some OAMC myths, shall we? —
1. OAMC Saves Time. This should be true but it's not. The first thing most OAMC plans do is have you cook up all your meat. Have you ever cooked 40 pounds of hamburger at once? Definitely not a time saver. Instead, our freezer menus have you assemble your raw meats in packages to be cooked later (and not reheated).
2. OAMC Saves Money. Again, this could be true but it's not always. If your OAMC plan has you preparing the above mentioned 40 pounds of ground beef but it wasn't on sale when you purchased it then you haven't really saved much, have you? Our freezer menus are sold "by the meat" so it's easy to match them with the meats that are on sale when you go shopping.
3. OAMC is Healthy. One of the biggest frustrations I have with OAMC is that it's all precooked only to be reheated later. Each time you heat up food you lose nutrients. Heaven forbid if you have leftovers! That meal could be "cooked" 3 or more times. Like I said in #1, packaging your meals in their raw form allows for retaining maximum nutritional integrity. Plus, your meats get time to marinate as your package defrosts. That's a great bonus when it comes to flavor!
There is nothing quite like the feeling of coming home and not needing to worry that you didn't have time to prepare a home cooked meal because you know your freezer is stocked with a yummy dinner just waiting to be thawed and tossed in a skillet.
Imagine the convenience of those packaged frozen store bought dinners only yours were made with your fresh ingredients and you can pronounce everything on the label because it all came from your own kitchen. No preservatives, no artificial flavoring, and no added fats, sugars, junky carbs, or sodium. YAY! With our freezer menus you can really start Saving Dinner in your own home.
Click here for a list of the menus we have available.