Dear Friends,
In the hustle and bustle of daily life, the challenge of feeding a family can become downright disheartening–especially when your beloved children turn up their noses at your cooking. "It's too spicy" they wail. "I don't like it!" or "I want a grilled cheese instead."
You know how I feel about dumbing down kids' meals. You know too, that the very idea of being a short order cook for the family to get them to eat is just plain wrong and I would never advocate that approach. I will however make a small concession as we work collectively to ease our young protege into a trained palate–and that is by fixing meals that can be a little blander for the kiddos, less intimidating and more fun.
How so? Well…glad you asked!
Introducing our latest menu–One Recipe, Two Ways, Yum & Fun For Everyone!.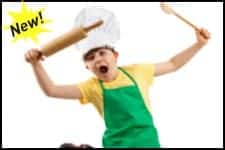 This brilliant menu will help you feed your fussy offspring without having to do the short order cook routine–you make simple adjustments to your recipe for the kids, do the "normal" thing for the adults and everyone's happy! How great is that?
Let me give you an example–a delicious Baked Coconut Shrimp recipe with an apricot dipping sauce for the kiddos and a ramped up, spicy hot apricot dipping sauce for the adults. See there? Everyone is happy! And you didn't have to make chicken nuggets or hot dogs, yippee!
We have 36 recipes, 2 ways all done in menus, with the usual serving suggestions and the all-important grocery lists as well. If you've been discouraged about getting your little ones to come along side of your way of eating, this is the ticket–One Recipes, Two Ways.
Check it out–there's Orange BBQ Chicken, Lettuce Wraps, Crabby Patty Cakes, Bacon Potato Frittata just to name a few. And remember, these recipes are done in TWO different manners, with minor (read: NOT time consuming!) tweaks to help make it easier for your children to try new foods.
And that's not all. We've put this wonderful new eCookbook together with two of our other fabulous ecookbooks, the 5 Ingredient eCookbook–with delectable recipes such as Honey Lime Chicken, Sweet Pork Tenderloin, Crock Cooker Cacciatore, Southwestern Slow Cooker Beef and Veggies–36 recipes, all with 5 ingredients or less!
There's also the Working Woman's eCookbook–you know the drill on this one–12 weekly menus, recipes, shopping lists, nutritional info (points included) and serving suggestions. You'll get Mixed Up Lasagna Casserole, Crock Cooker Chicken Burritos, Rustic Chicken Sandwiches, Comforting Chili Mac…just to name some of the 72 recipes in this great ecookbook. And let me just say, what woman is it that you know that ISN'T a working woman? I rest my case.
So let's recap–One Recipe, Two Ways + 5 Ingredient eCookbook + Working Woman's eCookbook = $64 value, all for just $27!!! That's a savings of over 55%!
These ebooks will take your cooking to the next level and help you get your children trying new foods, will help you get dinner on the table faster and will honor your working status by giving you the menus, recipes and shopping lists you need to get dinner done!
Point your little mousie here===> $27 <=== That's all you need to do; click, purchase and we'll do the rest! We'll get you cooking like never before!
Love,
Leanne