Before the spinach comes up in my garden, I don't leave Costco without grabbing a couple of those big containers of the stuff. This dark leafy green is one of the most common items on our table—you never catch me without a huge supply of spinach in the refrigerator. It's so quick to prepare and so nutritious, I eat spinach for breakfast, lunch, and dinner!
Spinach is chock full of B Vitamins as well as Vitamins C and E. Spinach contains a ton of omega-3 fatty acids, beta carotene, glutathione, and an endless list of additional minerals and phytonutrients.
Spinach fights heart disease, macular degeneration, and cancer…spinach can even prevent cataracts!
Now it's time for your Trick:
Get more leafy greens into yourself by adding a couple of handfuls of organic spinach to your morning smoothie. Nobody will even know you added it because you can't taste it! But you get the benefit of that extra serving of greens!
Your Tip:
Spinach is listed among the Dirty Dozen, so always buy it organic.
And your Recipe: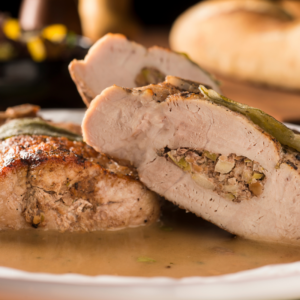 Spinach-Stuffed Pork Chops with Thyme and Tomato Sauce
Ingredients
3

tablespoons

ghee

divided, or use coconut oil

4

8-oz.

boneless top loin pork chops

1/2

cup

baby spinach

chopped

4

cloves

garlic

minced and divided

2

teaspoons

sea salt

divided

1

teaspoon

freshly ground black pepper

divided

1

small

onion

chopped

1

medium

red bell pepper

de-seeded, de-ribbed and chopped

2

tablespoons

tomato paste

1/2

cup

low sodium chicken broth

1

tablespoon

chopped thyme
Instructions
Preheat grill to MEDIUM-HIGH and brush grill grate with 2 tablespoons of the ghee (or coconut oil).

Make a slit in the side of each pork chop, forming a pocket.

Stuff each pocket with some of the chopped baby spinach and half of the minced garlic then season on both sides with half of the salt and half of the black pepper.

Grill stuffed pork chops for 4 to 6 minutes per side or until cooked through; remove from grill to a large serving platter.

Melt remaining ghee (or coconut) in a large skillet over medium-high heat; add the onion and remaining garlic and cook until onion has softened.

Add bell pepper, remaining salt and remaining black pepper; stir to combine then cook until bell pepper has slightly softened.

Add tomato paste, chicken broth and thyme.

Simmer mixture for 5 to 7 minutes then remove from heat and pour over pork chops.
Greens will uplevel your health like nothing else. A great way to add veggies to your morning is a smoothie using our Just Juiced Veggies!
For more delicious recipes using spinach, subscribe to Dinner Answers today!