What if I were to tell you that lamb was high in omega 3 fatty acids, did you know that? Lamb is naturally grass-fed and not subject to unnaturally being fed corn in feedlots the way cattle are.
Pasture-fed lamb naturally contains small amounts of vaccenic acid, a precursor for conjugated linoleic acid (CLA). CLA intake is associated with decreased risk of cardiovascular disease and is known for its fat loss potential.
Here's Today's TRICK:
While lamb is generally very tender, to ensure high quality look for lamb whose flesh is firm, fine textured and pink in color. Any fat surrounding or marbling should be white, not yellow.
Here's a TIP:
Remove any visible fat from the lamb before cooking it. If you don't, not only will it smoke and burn, but it will produce a particularly strong flavor in the lamb.
And your RECIPE: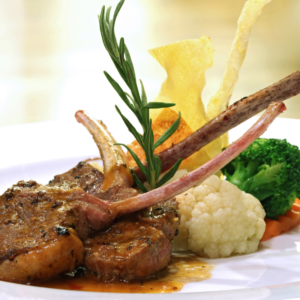 Rosemary and Mustard Crusted Lamb
Ingredients
1

tablespoon

fresh rosemary

chopped

2

teaspoons

freshly ground black pepper

1/2

tablespoon

sea salt

1/2

teaspoon

fresh sage

chopped

2

teaspoons

lemon juice

3

tablespoons

Dijon mustard

4 to 6

thick cut

lamb chops
Instructions
In a medium bowl, combine all ingredients except lamb. Mix very well and then smother each piece of meat on every side and place in a large zipper topped plastic bag and place in the refrigerator to marinate for 5 hours or overnight.

At time of cooking, preheat outdoor grill to medium high and remove lamb from refrigerator. Remove from plastic bag and grill for about 4 to 8 minutes per side, depending on thickness, and your preference for your meat.
Notes
SERVING SUGGESTIONS: Serve with baked sweet potatoes and a spinach salad. (You can "bake" the potatoes on the grill or in your crock cooker to keep your kitchen cool.)
For more delicious Paleo recipes subscribe to Dinner Answers today and start receiving weekly menus delivered right to your email inbox!