Whether you refer to it as balsam pear, bitter gourd, or by its most common name of bitter melon, today we're talking about a member of the plant family that includes melons, squashes, and cucumbers.
Native to Africa and Asia, bitter melon has been used for medicinal purposes for its ability to cleanse the system (it acts as a natural laxative) and in cooking to lend its bitter taste to savory dishes.
Bitter melon is a strange-looking green fruit, but it is very good for you!
Nutrients. Bitter melon is an excellent source of iron, magnesium, phosphorus, pantothenic acid, potassium, and vitamins A, C, and B6. Bitter melon also contains twice as much folate as its cousin, the cantaloupe. A serving of this fruit also provides you with 100% of your daily required dose of Vitamin K.
Anti-inflammatory. Bitter melon has amazing anti-inflammatory and cancer-fighting power.
Blood sugar. Bitter melon can reduce blood sugar levels, and it has been shown to have the power to treat some mild cases of diabetes in some studies!
Now, before you run out to shop for bitter melon, I won't lie to you. Bitter melon has a taste that takes some getting used to!
Because of its bitter flavor, I would suggest stir-frying bitter melon with some savory, sweet and spicy components to the dish. Bitter melon can be enjoyed steamed, stir-fried, or diced into a salad.
And now, it's time for your Trick:
To cut the bitterness of the bitter melon, soak it in saltwater or blanch it before cooking!
Your Tip:
When shopping for bitter melon, choose fruits that have more yellow or white exteriors. The greener the fruit, the more immature and bitter it will be.
And your Recipe: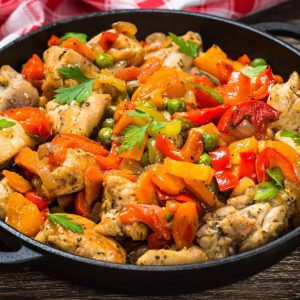 Chicken and Pepper Stir Fry with Bitter Melon
Ingredients
3

tablespoons

soy sauce

(low sodium if available)

3

tablespoons

ketchup

1

teaspoon

ground ginger

3

cloves

garlic

pressed

8

boneless skinless chicken thighs

cut into chunks

1/2

cup

bitter melon

(parboiled - directions below)

6

green onions

cut into 1/2-inch pieces

2

tablespoons

vegetable oil

divided

1

large

green bell pepper

thinly sliced

6

cups

hot cooked rice

I use brown
Instructions
Mix soy sauce, ketchup, ginger, and garlic in a re-sealable heavy-duty plastic bag.

Add chicken; seal bag and turn to coat with marinade.

Let stand 15 minutes.

Heat 1 tablespoon of the oil in 10-inch skillet or wok over medium-high heat.

Add bitter melon, green onions, and bell peppers; stir-fry until crisp-tender.

Remove from skillet. Heat the remaining 1 tablespoon oil in a skillet.

Add chicken; stir-fry 4 to 5 minutes or until no longer pink in center.

Stir in bell pepper mixture.

Serve over rice.
Notes
Parboiling bitter melon: Bring a large pot of water to a boil. Cut the ends off the bitter melon and cut in half lengthwise (do not peel). Remove the seeds and white pith from the middle of the melon with a small spoon. Cut the melon diagonally into thin, 1/4-inch slices. Place the sliced bitter melon in the boiling water and parboil until it is just tender (2 - 3 minutes). Drain.
Subscribe to our Dinner Answers program today to get more delicious recipes like this today!