Food For Thought
What's Looming in Your Leftovers
by Leanne Ely, CNC
A question that I'm asked a lot is: how many days can my leftovers be safely stored in the fridge? Honestly, I really don't let the day count climb higher than 4 days. And it shouldn't take that long to get around to them anyway if you're planning your meals accordingly.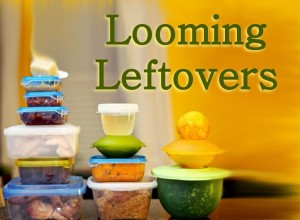 If you make a sizable dinner, you know you'll probably have one or two servings leftover, so logic would dictate to make a plan for those leftovers. Eat them for lunch the next day for a no brainer meal or reheat for dinner if you know you won't have a lot of time to cook. Take the time to write down what you've got if you know you'll need a more concrete reminder that sometime before the week is over you need to consume these leftovers.
Leftovers aren't just something that you can throw in the fridge and hope to remember to eat in the next couple of days. Besides planning to eat them, you need to know how to store leftovers as well. You don't want to deal with the odors and mold that I know we've all seen whether if it was in our own refrigerator or not. You want to use good airtight and leakproof containers. You also want to refrigerate within two hours of cooking. If you wait too long and leave it sitting at room temperature, you'll create an environment for different bacteria to infect the food.
If you opened up anything from a can and you don't finish it – don't just stick plastic wrap over the top of the can and throw it back in the fridge. The metal of the cans will affect the flavor of the food stored in them. Place the remainder in a plastic baggie or storage container and use within 4 day or freeze. I always recommend marking a container like that (or using a freezer appropriate bag) with the date and contents of the container/bag. Sharpie pens work well for this task as they don't run in the freezer. They are also permanent so consider that before you mark up your containers.
If your refrigerator is bursting at the seams, you have too much food in there and once you take the time to clean it out and organize it, you'll find space you didn't know you have. Consolidate like with like. In other words, put all your butter together instead of having a stick here and stick there all over the fridge. Sounds basic and it is but you'd be surprised at how easy it is for food to travel all over your fridge–especially when you've got the whole family putting stuff back.
Just remember, having food crammed in the fridge doesn't allow for the cool air to circulate and maintain the same temperature for every item stored in the refrigerator. This can be a hazard to food safety; keep this in mind next time you "stock up"!
Now go clean out your fridge, organize it and let's keep those leftovers fresh!
CHECK OUT OUR NOW AND LATER MENUS FOR GREAT SOLUTIONS FOR THOSE LEFTOVERS