Recipes
February 19, 2016
Honey Spiked Chipotle Pork
Dear Friends,
Today's new recipe, Honey Spiked Chipotle Pork, comes from our Paleo Menu-Mailer!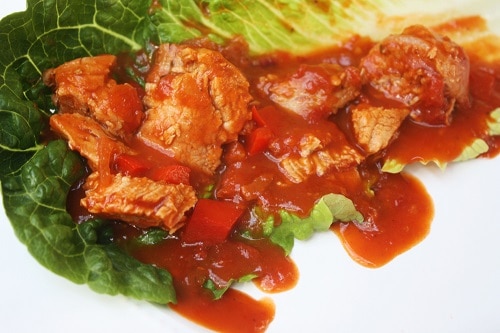 Week 8
Paleo

Honey Spiked Chipotle Pork
Serves 4
Ingredients:
1 (2-pound) pork loin
2 teaspoons coconut oil
1 medium red onion, chopped
3 cloves garlic, pressed
1 medium red bell pepper, de-seeded, de-ribbed and chopped
1 (14.5-ounce) can crushed tomatoes
1 cup low sodium chicken broth, or use homemade
2 tablespoons apple cider vinegar
2 chipotle chili peppers
1/3 cup honey
1 teaspoon sea salt
1 teaspoon chili powder
1/2 teaspoon paprika
1/2 teaspoon ground cumin
1/2 teaspoon crushed red pepper flakes
4 large romaine lettuce leaves
Directions:
Place first 5 ingredients (pork loin through red bell pepper) in a slow cooker.
In a food processor, blend together remaining ingredients (tomatoes through crushed red pepper flakes); pour mixture over pork and veggies in the slow cooker, making sure they're entirely saturated.
Cover and cook on LOW for 8 to 10 hours. Shred pork with two forks and blend with slow cooker juices.
Fill large Romaine lettuce leaves with shredded pork, veggies and some slow cooker juices.
——————————–
We have so many more delicious recipes just like this in our Dinner Answers program, and for the first time ever you can get a FREE trial!  Just click here to get immediate access to Dinner Answers…no payment necessary!