We know that we should be adding fish to our diets for optimal health, but which fish should you be reaching for?
It's hard to go wrong as long as it's wild fish caught in a sustainable, responsible manner, but one of the healthiest fishes you can buy is mackerel, a fatty deep water fish with very firm flesh and a strong flavor.
Mackerel is easy to cook, it tastes great and it's very good for you.
Let's look at some of the health benefits of this delicious fish:
Omega-3. Mackerel is famous for being a very oily fish. It's very high in those omega-3 fatty acids that we all should be eating more of.
Heart health. Mackerel can actually improve the condition of the heart. It lowers blood pressure and can prevent stroke.
Low in calories. A 3-ounce serving of this firm fish contains roughly 230 calories (providing it's been cooked without added butter or sauces), which makes a fillet lower in calories than other meats.
High in protein. There are 21 grams of protein in that 3-ounce serving of mackerel and like other fishes, it contains no carbs, making it a wonderful item to add to your dinner plate.
Minerals. Mackerel contains calcium, potassium, phosphorous, magnesium, and selenium. It's a good source of folate, choline, Niacin, and Vitamins A, D, K, B12, and C.
Mackerel lowers cancer-causing agents in the body, improves our immune systems, and is great for brain health. Mackerel can help ease symptoms of arthritis, arthrosis, and even migraine pain. Holy mackerel!
Now, one thing to be aware of when purchasing mackerel is that it is a deep-water fish, and depending on where it came from it may contain mercury. Pregnant women should not eat mackerel or any food that may contain mercury because it may harm the developing baby's nervous system.
To cook mackerel, simply pan-fry it at medium heat until it flakes with a fork! Or you can try this recipe from our 10-Day Paleo Blitz!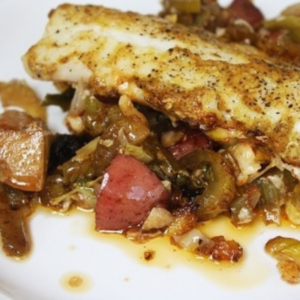 Fish and Veggie Bake
Ingredients
2

firm-fleshed white fish

fresh or frozen

1/8

cup

honey

1/8

cup

yellow mustard

Lemon juice

to taste

1/4

cup

onion

diced

1/4

cup

celery

diced

1

cup

shaved Brussels sprouts

3

cups

cooked and diced sweet potatoes

1/4

teaspoon

ground paprika

Sea salt and freshly ground black pepper

to taste

1/2

teaspoon

minced garlic

1/4

cup

balsamic vinegar

1

tablespoon

grass fed butter
Instructions
Preheat oven to 450 degrees.

In a small mixing bowl, whisk the honey, mustard and lemon juice.

In a medium mixing bowl, coat the fish with the honey mixture.

In a large mixing bowl, add the remaining 9 ingredients (onion through butter) and mix together thoroughly.

In a large casserole dish, add fish and top with the vegetable mix. Bake for 15 to 17 minutes, until fish flakes easily with a fork. Serve warm.
For more delicious recipes like this, subscribe to Dinner Answers today!