As much as we might hate the thought of it, summer is coming to an end and it's time to start thinking about the kids getting back on a routine and going back to school.
If there's one thing parents tend to agree on, it's the fact that packing the daily lunch can be a complete pain in the butt.
Never mind the fact that you must come up with good, healthy options that your child will actually eat, but if you have an allergy to consider or a picky eater on your hands, you have a daily struggle to contend with.
Throw in the whole gluten-free thing in there and you might be quite concerned about what to send in that lunch box.
Heck, for that matter, you might be a little low on sandwich-free inspiration for your own lunch if you're trying to reduce the amount of bread you consume.
The following list will give you ten great gluten-free options for school lunches (or for your own lunches!):
Cucumber sandwiches. I actually mean using cucumbers not as a filling for a sandwich, but as the sandwich bread. You can either slice your cucumber and use the rounds as miniature little sandwich bread or slice the cucumber lengthwise and hollow out the seeds, ending up with two long slices of sandwich "bread." Fill with whatever mixture you like (homemade chicken salad, egg salad, tuna, crab, use your imagination).
Lettuce wrap sandwiches. Bibb lettuce makes an excellent sandwich bread replacement. It's not soft and chewy, but it holds in your sandwich filling perfectly. Okay, maybe not pb&j.
Gluten-free oats. If your child will eat oatmeal for breakfast, then put some in the thermos for lunch! Pack in some toppings, whether it's maple syrup, bananas, pecans, milk, etc. and you have a perfect meal.
Scrambled eggs. Scrambled eggs make a great thermos meal for school lunch. It really doesn't get much easier! Pack some breakfast sausage and cheese that your child can have alongside and that will round the meal out a little bit.
Salad. Kids love making their own meals. Fill your lunchbox with all the fixings for a nice big salad: a mixture of greens, grilled chicken, bacon bits, carrot ribbons, cucumber slices, grated cheese, whatever your child likes. Oh and a bit of dressing! Then your child gets to assemble the salad at lunchtime.
Soup. A thermos of hot soup makes a great lunch for anyone. If you have some gluten-free crackers and your child won't eat soup without them (often the case!) then pack them too. Another good alternative to crackers with soup is organic popped corn.
Boiled egg. A hard-boiled egg is such a perfect lunchbox food—it even comes with its own biodegradable wrapper! Pair it with some cheese, raw veggie sticks, maybe a slice of ham, and you have a meal. To make this even easier, boil a dozen eggs on the weekend so you have boiled eggs to grab and go throughout the week.
Meatballs. Everyone loves meatballs. Fill the thermos up with your child's favorite meatballs and whatever sauce they like. To make eating the meatballs extra fun, send along a toothpick for spearing them!
Pizza. Your favorite gluten-free pizza makes a great lunchbox meal. Round it out with a salad and you'll probably have no leftovers coming back home to you.
Homemade chicken fingers. I have yet to meet a child that doesn't love chicken fingers and it's easy to make your own gluten-free option. My recipe can be found below: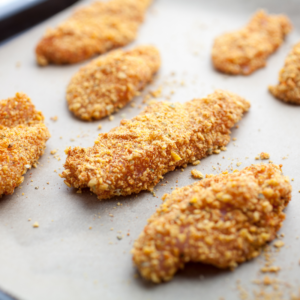 Crunchy Honey Mustard Chicken Fingers (Gluten-Free)
Ingredients
1

pound

chicken tenders

1/4

cup

honey

warmed

1/4

cup

Dijon mustard

1

cup

gluten-free organic corn flakes

crushed
Instructions
Preheat oven to 425 degrees. Lightly grease a cookie sheet.

In a small bowl, mix mustard and honey together. In another bowl, place the crushed corn flakes. In assembly line fashion, dip the chicken tender in the mustard mixture, then roll in the corn flakes and place on the cooked sheet. Bake for 15 minutes, or when cooked through.
For more fun and easy recipes like this, subscribe to Dinner Answers today!