Over and over again, I hear people say, "But what will I eat for breakfast if I'm going gluten-free?" OR "Gluten-free fill-in-the-blank is so expensive!"
My answer to both of these questions is, "Hold on, just wait a minute!" There are answers for you that won't break the bank or cause you to hyperventilate, LOL
I think we tend to overthink these things a little bit and tell ourselves that if we can't have toast, then breakfast isn't going to happen. So I want to show you just how easy it is to eat fast in the morning, even if you don't eat toast or breakfast cereal.
Here are seven healthy, low-carb ideas for grab and go breakfasts: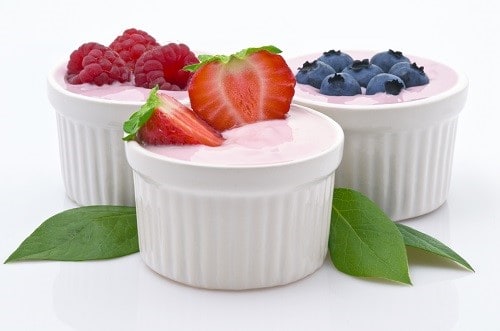 Fruit and yogurt. It doesn't get a lot easier than this. Plain Greek yogurt is fabulous. Full of probiotics and protein, this is a great start for your day. Pair it with fresh fruit and you're good to go. If you're not used to eating plain yogurt, you might need to sweeten it with a bit of local honey or pure maple syrup. But go easy—you don't need your blood sugar going to the moon first thing in the morning!
Smoothie. This is my favorite, go-to breakfast every single morning. Our Perfect Paleo Protein is 100% dairy and gluten-free, has up to 18 grams of protein per scoop, and will keep you full all morning long. This is how you get a perfectly balanced breakfast each and every morning! The secret to a perfect smoothie is having a good amount of protein (at least 20 grams) remember to add some good fat (an avocado or coconut milk) and fiber (flax or FiberMender) to your smoothie along with some greens (Just Juiced Veggies is my favorite and sometimes I'll add spinach as well), a bit of berries, and a liquid like almond milk.
Slow cooker porridge. Gluten-free oats in the slow cooker in the evening can get you a pot of steaming hot porridge in the morning! Use the ratio of 4:1, liquid to oats. Cook on low overnight and in the morning, top your piping hot cereal however you like! Bananas, berries, walnuts, cinnamon—delicious!
Apple and almond butter. If you have to be somewhere in a hurry in the morning, but you need a quick bite to eat, have an apple dipped in almond butter. You can take that apple to go all cut up, sprinkle a little cinnamon on it to hide the browning, add the almond butter and you're good!
Chia pudding with berries and nuts. If you add a bit of milk to a couple of spoonfuls of chia seeds and let it sit for a few minutes, you get almost a pudding-like consistency. It's sort of pearl-like, like tapioca. This makes a very filling little pudding, especially if you have some berries and nuts with it.
Boiled eggs. If you're going to boil one egg, you might as well boil the whole dozen. I almost always have boiled eggs in the fridge to grab and go if I need a quick bite of protein. If you have some leftover sausages or any sort of meat or veggies, they'll make a great breakfast with a boiled egg.
Leftovers. Speaking of leftovers in the fridge, I would like to know who made the rule that we need "breakfast" foods in the morning. For most species, food is food! Eat whatever the heck you want in the morning even if it's meatloaf from the night before (and I happen to love it cold!).
See? Breakfast can be nutritious, delicious, AND fast!