How many times have you walked past the plantains at the market, not sure about what to do with them if you took them home?
Well, I encourage you to pick one up the next time you're out shopping and take it home to see what it's all about.
Plantains look like bananas. The two foods are related, but plantains are not sweet. They're actually considered a vegetable, while their banana cousins are considered fruits!
Plantains are quite starchy and must be cooked before they're eaten. Plantains are actually more like potatoes than they are like bananas, so you would want to use plantains as a side dish ingredient and not for dessert.
Some people will tell you to buy and cook green plantains while others will tell you plantains should be very ripe—almost black—for best results. I lean closer to the ripe side of that argument, but go ahead and look for recipes like the one I'll give you in just a minute, and try experimenting!
Plantains are high in vitamins A, B6, and C. They're also a great source of potassium. But remember, they are extremely high in starch, so go easy on them!
Now that you're anxious to get out and see what's so appealing (groan!) about plantains…
It's time for your Trick!
To peel a plantain, cut both ends off and slice the plantain into several sections. Make three vertical cuts in the peel of each of those three chunks. After they're peeled, saute them or toss them into a soup or stew.
Your Tip:
When shopping for green plantains they should be nice and firm. If you want to buy your plantains ripe, they'll be almost black in color and will be quite soft.
And your Recipe: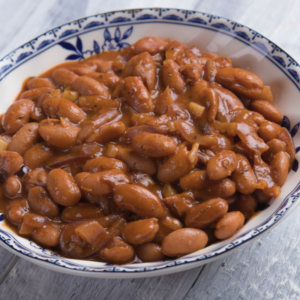 Caribbean Crock Beans
Ingredients
3/4

pound

dried chili beans

sorted rinsed and soaked overnight

Water

1 1/2

plantains

chopped

1 1/2

cups

chopped tomato

3/4

cup

seeded, deribbed, and chopped green bell pepper

3/4

cup

chopped onion

2

cloves

garlic

pressed
Instructions
Sort, rinse and soak beans overnight. Drain beans and place in slow cooker; cover with water. Cover and cook on Low for about 7 hours, or until beans are tender. Thirty minutes before serving, add plantain, tomato, bell pepper, onion and garlic to slow cooker. Raise heat setting to High; cover and cook for another 30 minutes, or until plantain has softened.
PS–You can receive delicious menus (complete with shopping lists!) like this delivered right to your email inbox by subscribing to Dinner Answers today!