We have the Greeks to thank for bringing apricots to us. These "golden eggs of the sun" came to Europe via Greece way back around 100–50 BC.
Apricots are beautiful little fruits with velvety yellow skin and sweet, tasty flesh. Related to peaches, apricots are juicy and slightly tart with a flavor similar to that of a plum.
Low in calories and high in fiber, apricots are a great little snack. Full of minerals and vitamins, apricots are rich in antioxidants, can lower LDL cholesterol levels, and can aid in the prevention of heart disease.
Apricots are a great source of carotenes, Vitamin A, Vitamin C, potassium, iron, calcium, manganese, and zinc.
Try to choose fresh apricots over the dried variety. If you live in a place where you can't get fresh all the time and you do choose the dry variety, look for those that have not been treated with sulfur dioxide. Sulfites are often used to treat apricots to extend their shelf life. An estimated one in one hundred people has a sensitivity to sulfites, so it's a good idea to avoid them if you can.
Apricots can be enjoyed chopped into a salad, sliced into yogurt or hot cereal, or added to pancake batter.
Here's Your Trick:
Apricots shouldn't be kept in the fridge longer than 3 weeks. If you can't eat them before they go off, try blending them with some Greek yogurt for a delicious smoothie.
And your Tip:
When buying apricots, shop for those with rich, orange-colored skin and avoid pale yellow fruits. They should be on the soft side but not too firm, which indicates they haven't been tree-ripened.
And your Recipe: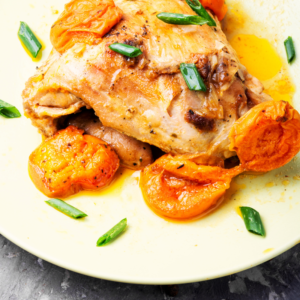 Honey Apricot and Raisin Chicken
Ingredients
6

6-oz.

boneless skinless chicken breast halves

2

teaspoons

ground allspice

3

cloves

garlic

pressed

1/2

teaspoon

sea salt

1/4

teaspoon

freshly ground black pepper

1

cup

chopped onion

1

cup

chopped dried apricots

1/4

cup

golden raisins

1/2

cup

honey

2

tablespoons

white wine vinegar

1/3

cup

low sodium chicken broth

1

tablespoon

cornstarch

1

tablespoon

water

2

cups

brown rice

cooked
Instructions
In a large zipper-topped plastic bag, combine chicken with allspice, garlic, salt and pepper; seal bag and shake well to coat chicken. Place chicken in a crock cooker; add onion, apricots and raisins. In a small bowl, whisk together honey, vinegar and broth; add to the crock cooker. Cover and cook on LOW for 6 to 8 hours or until chicken is tender and cooked through. In a cup, combine cornstarch and water; stir into crock cooker. Cover and cook for 5 minutes or until sauce thickens.
PS–You can receive delicious menus (complete with shopping lists!) like this delivered right to your email inbox by subscribing to Dinner Answers today!