It's artichoke season, so today we're going to focus on this spiky green veggie. After reading this post, you're going to have a great tip, a trick, and a brand new recipe focusing on this edible flower that grows mainly in California and in the Mediterranean.
Though artichokes are sharp and thorny and quite intimidating, the work you have to do to get to the good stuff is worth it. (The good stuff, by the way, is the heart of the artichoke, found beneath the hairy, inedible, ugly choke.)
Artichokes are delicious and they're also rich in magnesium—a vital mineral that many of us don't get enough of. (We need 300 milligrams of magnesium in our diets each day to maintain good health, and an artichoke provides you with 77 of those milligrams).
Not only are artichokes high in magnesium, but they're also linked to reducing the risk of developing prostate cancer and leukemia. They're high in fiber and they also aid in liver health.
Artichokes might look strange, but when you taste the sweet tender meat, you'll know what all the fuss is about.
Now, it's time for your Trick:
Use a set of kitchen shears to trim the thorny tips off the leaves (or the petals, whatever you want to call them) of the artichoke. Chop about an inch from the top of the artichoke and put the veggie in a pot of boiling water for about 40 minutes. You could also steam the artichoke for 15 or 20 minutes, which is how I prefer to prepare them.
Your Tip:
Don't discard the delicious tender petals of the artichoke to get to the heart. Use the leaves for scooping up your favorite dip! Or dip them in a mixture of lemon juice and melted butter. Mmm!
And your Artichoke Recipe: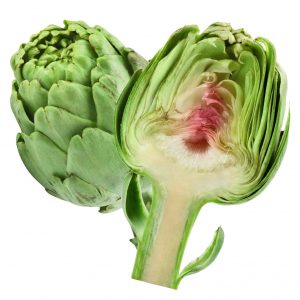 Spanish Paleo Lasagna
Ingredients
1

pound

extra-lean ground beef

2

teaspoons

dried oregano

1

teaspoon

dried thyme

1

teaspoon

dried parsley flakes

1/2

teaspoon

dried basil

1/2

teaspoon

crushed red pepper flakes

2

cloves

garlic

minced

1

egg

lightly beaten

Sea salt and freshly ground black pepper

to taste

1

cup

Paleo marinara sauce

1/2

cup

canned artichoke hearts

drained and chopped

1/2

cup

sliced black olives

1/2

cup

diced sun-dried tomatoes

3

cups

arugula
Instructions
Preheat oven to 400 degrees.

In a large bowl, place first 9 ingredients (ground beef through black pepper). Using your very clean hands, blend well.

Press mixture evenly into a 9- x 13-inch baking pan coated with olive oil and bake for 15 minutes or until beef has browned on the outside and is cooked through.

Remove from oven, draining off excess fat. Spread marinara sauce, artichokes, olives and sun-dried tomatoes in even layers over the meat.

Return to the oven and bake for 5 to 8 minutes or until sauce has set and toppings have softened.

Remove from oven, top immediately with arugula then and serve.
Looking for more delicious recipes like this one? Check out our Dinner Answers program today!