Called Rocket Salad in the UK, arugula is really an herb (also called Italian Cress). It is a delightful change of pace in that its spicy, peppery leaves add a delicious flavor all its own.
Lower in oxalates than spinach, it's a good salad choice with vitamins A, B, C, and K all available and bountiful minerals, including magnesium, zinc, and calcium (all important minerals for pretty skin, bones, and hair).
As with all salad greens, my recommendation is you buy these lovelies organic.
Here's a TIP:
You can grow arugula from seed quite easily. It's ready for harvest in just 30 days. Watch the hotter weather though, it'll bolt and go to seed quickly!
And a TRICK:
To extend the life of arugula, stand it up in a vase of water like you would flowers. It will last so much longer. If you bought it in a clamshell or bag, then transfer it to a salad keeper like the Rubbermaid Produce Saver. Arugula is fragile and doesn't last long!
And your RECIPE: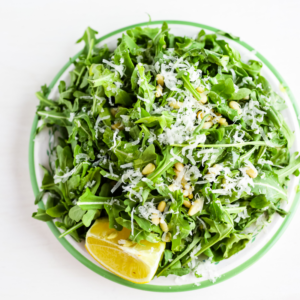 Arugula with Toasted Pine Nuts and Parmigiano-Reggiano
Ingredients
1

large bunch

arugula

washed and ready

1/2

cup

shaved Parmigiano-Reggiano cheese

2

tablespoons

toasted pine nuts

1/4

cup

balsamic salad dressing

Paul Newmans' Balsamic Vinaigrette is a good choice or make your own 1:3 balsamic to olive oil
Instructions
In a large bowl, combine arugula, cheese and pine nuts. Toss gently with balsamic dressing to coat completely. Serve immediately on individual chilled salad plates.
PS–You can receive delicious menus (complete with shopping lists!) like this delivered right to your email inbox by subscribing to Dinner Answers today!