By Leanne Ely, C.N.C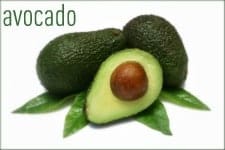 Dear Friends,
A favorite guilty pleasure of mine is guacamole. Made fresh, with chopped cilantro, red onion, lime juice, a dash of sea salt and a little salsa (I use a fire roasted chipotle salsa in a jar that is just KILLER!), it's hard to beat. In 3 minutes, I've got a delicious dip that's out of this world (just eyeball the proportions; you want avocado to be the main thing so for 2 avocados, use a handful of red onion and cilantro, each. For the salsa, about 3 tablespoons and a tablespoon of lime juice). If you make your own tortilla chips (cut corn tortillas into chips, spray with a little oil, sprinkle with sea salt, then bake in a 400 degree oven till crisp) then you've cut some of the fat and have controlled the salt—much better than conventional chips!
But what about the fat in the avocados? The beauty of avocado's fat is that it is mostly unsaturated and will actually help lower LDL (the bad cholesterol) while preserving HDL (the good cholesterol). The trick is to eat just a little avocado (1/2 a medium sized avocado contains 204 calories and about 19 grams of fat). Further, avocados are rich in vitamin A and B vitamins, calcium and potassium and are a great source for E and C as well, wonderful antioxidants that help you combat disease and build your immune system.
The bonus with eating avocados is because of the fat content, you're well satiated and won't be left wanting! A little avocado in a salad is a nice treat and of course, the aforementioned guacamole is another fantastic way to get this phytonutrient rich food into your diet. And here is another great way to add a little avocado to your life—enjoy!
Creamy Gazpacho
Serves 2
1 cup water
1 medium avocado
1 cup chopped cucumber
1 jalapeno pepper (seeded and deribbed; optional if you don't like the heat)
1 clove garlic, pressed
3 good sized sprigs of cilantro, chopped (plus a tablespoon more for garnish)
1 tablespoon lime juice
1 tablespoon honey
Combine all ingredients together. Take HALF the mixture and blend in the blender till smooth. Now mix both the blended and unblended mixture together. Serve immediately with a little cilantro over the top for garnish.