Tips, Tricks, & a Recipe
Cooking with Alcohol
by Leanne Ely, C.N.C
Today's focus is on: ALCOHOL! That's right…booze, vino  & brewskis!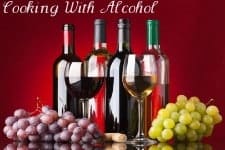 No this isn't an invitation to a cocktail party! This is how to use different alcoholic beverages for cooking. If you don't want to, never fear…I won't leave you hanging! Just check out the handy substitution guide below.
Here's a TIP:
There is such a thing as too much and not just in the glass, either! If you add too much wine or alcohol to your cooking, you can overwhelm the dish. Start with just 1 tablespoon if you're adding it to a sauce, let it simmer for a bit and see what you think!
Here's Today's TRICK:
Don't want to use alcohol? No problem, here are some handy substitutes:
Here is a list of substitutions that will work with recipes calling for wine, beer or spirits:
Beer: equal parts chicken or vegetable broth and ginger ale with a splash of malt vinegar.
White Wine: equal parts chicken or vegetable broth and white grape juice with a splash of cider or balsamic vinegar.
Red Wine: equal parts chicken or vegetable broth and red grape juice with a splash of red wine or balsamic vinegar.
Sherry: same as either wine substitute.
Spirits, such a vodka, scotch, whiskey, etc. (I don't usually give you recipes with anything like this, but here's the substitute) chicken broth or vegetable broth. If the whole flavor of the recipe is central to the spirit being used, I would skip the recipe. Otherwise, this simple substitute will work.
And your RECIPE—this will a terrific recipe for when school is back in full swing!
Easy Crock-Pot Chicken
Serves 6
1 1/2 pounds skinned chicken drumsticks (6 pieces)
3 pounds skinless chicken thighs (6 pieces)
1/3 cup dry white wine* (or use white grape juice or chicken broth)
1 small onion, chopped
2 teaspoons chicken-flavored bouillon granules
(or two cubes bouillon-I use the no MSG type)
1/2 teaspoon dried Italian seasoning
1 teaspoon garlic powder
1/2 teaspoon dried tarragon
1/4 teaspoon crushed red pepper
14 1/2 ounces stewed tomatoes — un-drained, and chopped
6 cups hot cooked rice (I use brown rice)
Trim fat from the chicken, if necessary.
Place chicken in a crock pot , stir in wine and next 8 ingredients (wine through tomatoes). Cover with lid, and cook on high-heat setting for 1 hour.
Reduce heat setting to low, and cook for 3-1/2 hours.
Per serving: 477 Calories; 7g Total Fat; 39g Protein; 58g Carbohydrate; 133mg Cholesterol; 465mg Sodium Food Exchanges: 3 1/2 Grain (Starch); 4 1/2 Lean Meat; 1 Vegetable; 0 Fruit; 0 Fat; 0 Other Carbohydrates
SERVING SUGGESTIONS: Spinach salad and some baked potatoes would be perfect.
VEGETARIANS : Use assorted root veggies in the crock pot instead of the chicken. Reduce cooking time to 3 hours on low total or till tender. (times vary greatly depending on your slow cooker) Use vegetarian bouillon.