Not all bell peppers are created equal. First, there are the colors – red, orange, yellow, and green are the most common. The second is the flavor – from sweet to hot. It is all from the same plant. The only difference is when they are picked. As the pepper gets riper, it gets not only a better taste, but it also gets more nutritive value. A red pepper is actually a fully ripened green pepper with a milder flavor.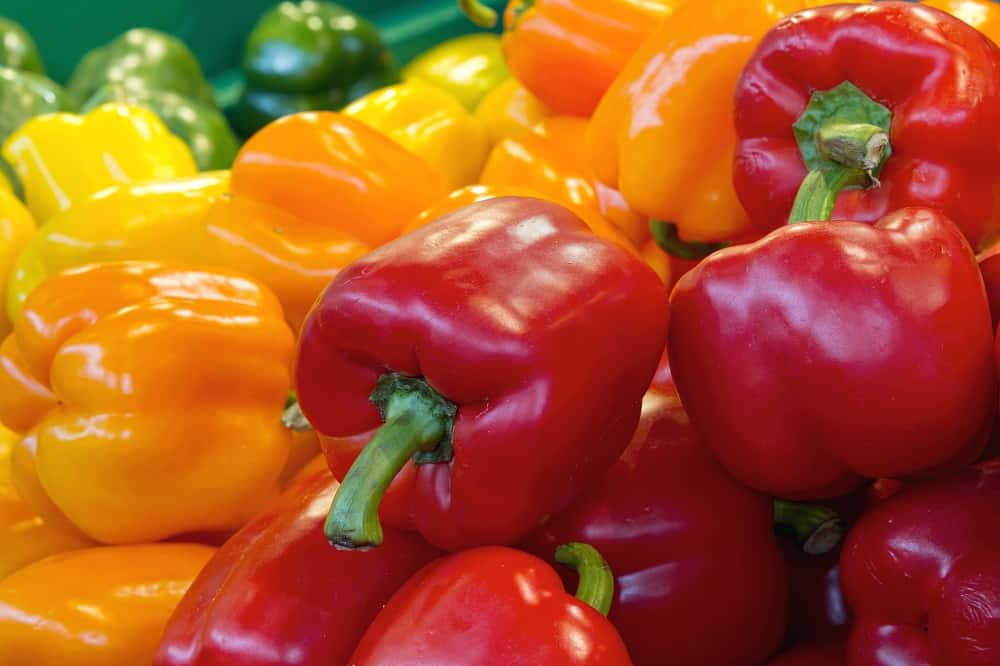 Here's Today's Trick:
Bell peppers freeze well without being blanched, but it is better to wash them first. For maximum flavor and nutritional value, store them whole. Sweet peppers lend themselves well to drying and keep at least 1 year when dried. They are also good marinated.
Here's a Tip:
Red pepper has more vitamin C than oranges and is also high in beta-carotene.
And your Recipe: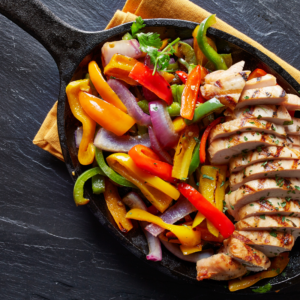 Chicken Verde Fajitas
Ingredients
1 1/2

pounds

green tomatillos

husks removed

1/2

small

onion

chopped

4

cloves

garlic

minced

3

medium

limes

juiced

2

small

jalapeño peppers

seeded and diced

1/2

teaspoon

sea salt

1/4

teaspoon

freshly ground black pepper

1

cup

chopped fresh cilantro

2

pounds

bone-in chicken breasts

2

tablespoons

cumin

3

tablespoon

chili powder

2

teaspoons

paprika

1

medium

onion

thinly sliced

1

red bell pepper

sliced

1

yellow bell pepper

sliced

1

green bell pepper

sliced
Instructions
Preheat broiler to high.

Slice the tomatillos in half lengthwise, and place cut-side down in a baking dish. Roast under the broiler 6 to 8 minutes, until skin takes on a darker color. Remove from the oven and let cool.

In a food processer, add cooled tomatillos, chopped onion, garlic, lime juice, jalapeños, salt, pepper, and cilantro. Blend until a puree is formed. Pour this mixture into a small freezer bag, remove excess air, and seal.

In a small mixing bowl, mix together cumin, chili powder, and paprika. Sprinkle this mixture evenly over chicken breasts. Place seasoned chicken in a freezer bag, remove excess air, and seal.

In a final freezer bag, place sliced onion and bell peppers, remove excess air, and seal.

To prevent freezer burn, place the filled bag in a second 1-gallon freezer bag; carefully squeeze the bag to force out any air, then seal. On the outside of the bag, label with the recipe name and date of preparation; place it in the freezer
Notes
THAW:
Defrost your freezer meal the night before in the fridge. If you don't have a full thaw at cooking time, remove it from the holding bag and place it in a sink of water to speed-thaw your food. New rules allow for thawing in hot water (100 degrees) with no issues regarding quality or safety (old rules said to use cold water for thawing, but this is no longer necessary - hot water is fast, effective and safe).
COOK:
At time of cooking ingredients:
2 ripe avocados, sliced
1 head romaine lettuce
Cooking instructions:
In a large crock cooker, add half of the tomatillo puree. Place chicken breasts on top of tomatillo puree. Add all vegetables and the rest of the tomatillo puree.
Cover and cook on high for 4 hours until chicken is cooked through. Remove chicken from crock cooker. With two forks, remove chicken from bone and shred. Return chicken to crock cooker and mix well.
Serve in romaine lettuce cups topped with fresh avocado.
Dinner Answers will give you what you need to get all your meals on the table, pronto. Click here!