I have been a huge fan of smoothies for years—they're one of my favorite things. Smoothies are part of my daily life, as are fresh juices; however, unlike juices, a smoothie can be a complete meal in a glass. And absolutely perfect for summer.
With a smoothie, you have your healthy fat, protein, nutrients and minerals, and your fiber all in one handy yummy serving. Toss it in your travel mug and you have breakfast (or lunch or dinner!) to go.
As much as I love my coffee, a nutritious smoothie is also a far superior afternoon pick-me-up.
If you have trouble getting in all those greens you should be getting each day, try tossing some spinach into a smoothie. You get all the nutrition of the green stuff, but you can't taste it. Or you can try our Just Juiced Greens! Add some chia seeds, a frozen banana, and some coconut milk and you have a real winning combination.
As you may or may not know, we have our own line of protein powders – Perfect Paleo Protein in Chocolate, Unflavored, and Vanilla.   Mmm. These protein powders are absolutely rocking my world. There's no grit, no sludge, and no awful aftertaste.
I'm having a ton of fun experimenting in the kitchen with these blends. My current favorite recipe is my Mocha-chino Smoothie.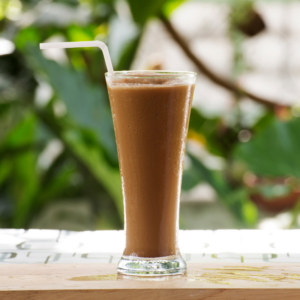 Mocha-chino Smoothie
Instructions
In a blender, add all ingredients; blend until smooth and enjoy! For a thinner smoothie, add more unsweetened coconut milk.
This is SO yummy and good for you—you're not going to believe it.