I have been going through Broccoli Block. You know, when you forget to turn on the veggies and you have your dinner ready to go but the veggies are sitting on the stovetop, cold, raw and just waiting for someone to turn them on and get them cooked?
Why is that?
I think the reason is we are zooming around the kitchen, multitasking as we should be and for me anyway, the stove isn't where my prep area is (it's to my back) and I just simply forget. Not always, but sometimes. It ticks me off! I've been cooking for a LONG time and to forget to turn on the veggies is outside of my realm of thinking, or so I thought. I've thought about the old adage, out of sight, out of mind and thought, that's the ticket! So I've taken to moving my prepped veggies (pot and all) and putting it on the countertop where I am preparing the evening meal. Now it's in my line of vision and I can still stay preoccupied with all the stuff I was so preoccupied with before, but now I won't forget to turn on the veggies!
If you're having Broccoli Block, maybe you want to fix it too, by putting whatever it is you're forgetting, right in the line of fire, so you see it and remember to do it! Part of getting dinner on the table every night is getting all the components ready at the same time. Doesn't take rocket science, but you do have to think about it!
Here's a recipe to make your next dinner a success, especially if you've got summer heat to deal with—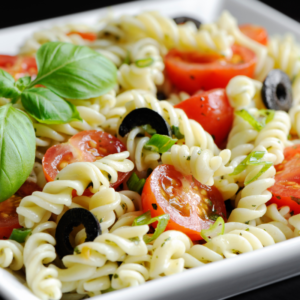 Pasta Salad with White Beans
Ingredients
SALAD:
1

16-oz. package

fusilli pasta

1

cup

canned white beans

drained and rinsed

5

ounces

smoked turkey or regular ham

chopped (or omit)

4

plum tomatoes

chopped

1

small

red bell pepper

seeded, deribbed and cut in long, thin slices

10

Kalamata olives

pitted and halved (or use black olives)

2

tablespoons

chopped fresh parsley
EASY BALSAMIC VINAIGRETTE
1

tablespoon

Dijon mustard

2

tablespoons

balsamic vinegar

1

tablespoon

lemon juice

1

clove

garlic

pressed

1/2

cup

olive oil

Salt and pepper

to taste
Instructions
Cook pasta according to package directions.

While pasta is cooking, make dressing (see below) Drain cooked pasta, rinse

under cold water and set aside.

In a large bowl, combine remaining salad ingredients, add the pasta, vinaigrette and toss lightly to mix.

Dressing: Mix all ingredients together, whisking the olive oil in gradually at the end, until dressing is slightly thickened. Season with salt and pepper.