When I was a little girl, there was no way I'd be giving thanks for the little green balls of mush my dear mother would put on my plate.
I would have to sit at the table forever, trying to choke down those disgusting blobs of leaves. I love my mother dearly, but the woman did not know how to cook Brussels sprouts.
As an adult, I learned how to cook Brussels sprouts, and now I can't get enough of them. And, thankfully, my children grew up knowing how delicious these nutritious vegetables are when you cook them properly.
In fact, I can almost guarantee you that if you learn how to cook Brussels sprouts just right, they will become a new family favorite.
Why do I care so much that you eat these tiny little cabbage-like veggies?
Well, because Brussels sprouts are superhero cruciferous veggies, which lower our risk of developing many types of cancers, as well as our bad cholesterol levels. They're also full of fiber, vitamins, and folate.
With Thanksgiving coming up, I challenge you to put a dish of Brussels sprouts on your dinner table and trust that it will impress everyone and turn you all into Brussels sprout fans. But no worries! I'm going to give you the recipe I use to impress my non-Brussels sprout-loving dinner guests.
But before we get to your recipe, it's time for your Trick:
Before you start cooking, remove the outer leaves and cut off the stems from your sprouts. Cut your tiny cabbages into halves (or quarters for the big ones), and let them chill out on the counter for about five minutes before you do anything else with them. This step gives their cancer prevention properties a boost.
And your Tip:
Brussels sprouts do not need much cooking time. Overcooking these little guys is the reason they end up smelling like rotten eggs and tasting gross. Steam Brussels sprouts for no longer than five minutes!
And your Recipe: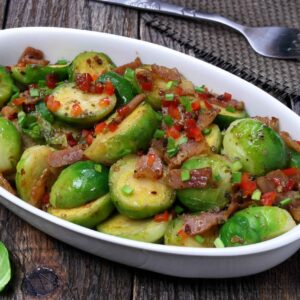 Brussels Sprouts with Bacon and Red Onion
Ingredients
1

pound

Brussels sprouts

outer leaves removed, halved or quartered

1

half

red onion

diced

3

slices

bacon

cooked (use leftovers, if possible)

1

tablespoon

butter

1

tablespoon

olive oil

sea salt and freshly ground black pepper

to taste
Instructions
Turn the heat on under a skillet (use one with a lid) to medium–high heat. Add olive oil and butter to your pan, and let that fat get good and hot.

Chop a red onion and add it to the hot pan, then toss in the Brussels sprouts. Give them a toss, and then turn the heat down to medium-low. Add sea salt and freshly ground pepper.

Give the Brussels sprouts and diced onion another toss and then snip in your strips of leftover bacon with your kitchen shears into the pan.

Remove the pan from the heat, cover, and let it steam for about five minutes.
Looking for more delicious recipes like this one? Check out our Dinner Answers program today!