Fifteen million years ago, folks were enjoying honey. We know that beekeeping has been going on since 700 BC. Before then, I guess it was brave souls sticking their arms in beehives!
The Egyptians sacrificed tons of honey to river gods. Rumor has it that Alexander the Great was embalmed with honey. In ancient Rome, honey was put on wounds to promote healing. Needless to say, there was a time when honey was greatly valued and to cook with it? Well, that was practically unheard of for anyone that was not tremendously wealthy.
Just in case you weren't aware (one shouldn't assume anything), honey is a pure and natural sweetener made by honey bees and stored in honeycombs. I have a couple of hives in my own backyard and the last time we checked on the honey stores all looked good for the bees to make it through the winter!
Let me tell you…there is a treasure trove in those hives.
Minerals. Honey is much more than a sweetener. It contains many nutrients and minerals including copper, iron, zinc, potassium, manganese, phosphorus, magnesium, calcium, amino acids, niacin, B6, thiamin, riboflavin, and pantothenic acid.
Immunity boost & antioxidant. Honey helps to boost our immunity and it has strong antioxidant properties protecting us against cancer and other diseases.
Lower cholesterol. Honey contains no cholesterol and there is research that suggests adding a small amount of honey into your daily diet will help keep cholesterol levels healthy.
Beautify. Honey has anti-aging properties! It can actually help the skin to rejuvenate and refresh skin that's been depleted of moisture.
While nectar is basically water and sucrose, bees add enzymes to that concoction which results in a reaction that turns the sucrose into glucose and fructose then the water is evaporated so the liquid leftover won't go bad. Ever.
Archaeologists have found 2000-year-old jars of honey in tombs in Egypt and it was as if it were just bottled. Bacteria can't grow in honey. It truly is a miracle food!
So much to celebrate about honey, never mind the fact that it's absolutely delicious! I like using it to sweeten my plain Greek yogurt and my tea. Mmm, mmm! If you have a sore, scratchy throat, a spoonful of honey will make you feel better. I really can't think of a single bad thing to say about honey!
Here's your Trick:
Don't spend a fortune on organic honey, folks. Nobody can control where bees fly, so there's no way of knowing whether honey is actually organic or not! Stick with the local stuff though, and make sure it hasn't been processed.
Here's your Tip:
Local honey ROCKS for allergies! If you suffer allergies, eat honey! It acts like a vaccination of sorts, against allergies. How is that possible? Well, honey has a lot of pollen spores in it that give you allergy sufferers trouble when grasses and flowers are in bloom. It's believed that taking these spores into your body in small amounts will help your immune system to not freak out when you breathe them in. The secret to this, though, is that it has to be local honey. That way there's a good chance that the plants that cause you grief during allergy season are being pollinated by the bees making the honey in your parts. Make sense?!
And your Recipe: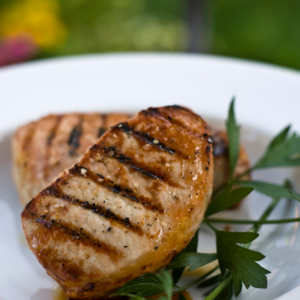 Cuban Spicy Pork
Ingredients
2

teaspoons

ground cumin

2

teaspoons

cayenne pepper

1

teaspoon

sea salt

1

teaspoon

chili powder

4

6-oz.

boneless top loin pork chops

1/4

cup

green chili salsa

2

tablespoons

raw honey

2

cloves

garlic

pressed

2

tablespoons

lime juice
Instructions
In a cup, combine cumin, cayenne pepper, salt and chili powder; rub mixture on both sides of pork chops. In a large zipper-topped plastic bag, smoosh together remaining ingredients (salsa through lime juice); add seasoned pork chops, seal bag and turn to coat. Refrigerate overnight or for at least 1 hour. Preheat outdoor or indoor grill; cook pork chops for 5 to 8 minutes or until done.
PS–You can receive delicious menus (complete with shopping lists!) like this delivered right to your email inbox by subscribing to Dinner Answers today!