Also known as Cabbage Flower, cauliflower is a member of the Brassica family of veggies, well-known for its cancer-fighting capabilities. Mon petit chou means (in French, chou is pronounced "shoe") "my little cauliflower" and is a term of endearment! How do you like that?
Here's today's TRICK:
Take the stem off your cauliflower and keep it in an opened plastic bag in the fridge. It will last a good week, maybe longer!
And here's a TIP:
To tone down the smell of cauliflower cooking, add a few celery seeds or some celery leaves to your cooking water. It won't pick up the celery's flavor, but it will certainly tame the smell!
And your RECIPE:
This is my daughter's favorite soup!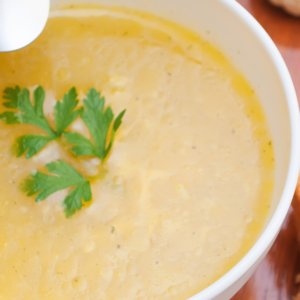 Caroline's Crockpot Cheesy Cauliflower Soup
Ingredients
2

cups

low sodium chicken broth

2

8-oz. packages

frozen cauliflower

1

medium stalk

celery

chopped

1

medium

carrot

chopped

1/2

cup

chopped onion

1/2

teaspoon

thyme

sea salt and freshly ground black pepper

to taste

1

cup

milk

1 1/2

cups

shredded low-fat Cheddar cheese
Instructions
Throw all ingredients except milk and cheese into a crock cooker and cook on low until vegetables are very tender, about 4-6 hours.

Carefully pour mixture into work bowl of food processor fitting with steel blade or into blender container. Cover and process until smooth. OR, if you like it a little lumpy and bumpy like I do, use a potato masher and have at it in the crockpot itself--mash to your heart's delight.

Place your cauliflower mixture into a saucepan; stir in milk and cheese. Heat over medium heat, stirring constantly, until cheese is melted and mixture is hot.
Notes
SERVING SUGGESTIONS: A huge, hearty salad (add sliced avocado, tomatoes and red onion to your choice of lettuce(s)/greens. SERVING SUGGESTIONS: Add warmed whole wheat rolls to above.
BONUS TIP: You could easily make this soup into a freezer meal! Simply place all ingredients-broth through thyme-in a freezer bag, label, and freeze. When you're ready to use it, simply thaw, add salt and pepper, and place in the crock cooker. Then complete the last steps in the recipe!
Want even more fabulous freezer menus? Click here to check out the amazing assortment of ebooks available!