I am one of kale's biggest cheerleaders. This probably doesn't come as a great surprise to many of you, I'm sure!
While your classic curly kale is my old standby, this time of year I like to spice things up by adding red kale to my shopping basket.
Red kale has reddish-purple and green leaves, making it a beautiful addition to a dinner plate. The red color comes out more in colder conditions, so you're most likely to find red kale in the cooler fall and winter months than in the spring.
You'll discover that red kale is faster cooking than other kale varieties, and it's generally more tender as well.
Like all types of kale, red kale is extremely nutrient-dense. Red kale is very high in fiber, beta-carotene, and vitamins K and C.
I enjoy eating red kale steamed, raw in salads, sautéed in bacon, and baked into chips.
Now that you're craving kale, it's time for your Trick:
Massaging kale is an excellent way to enjoy it in its raw form. Rinse your red kale well to remove any dirt and or insects. Rip the leaves from the stalks into a salad bowl. Drizzle with olive oil and the juice of half a lemon. Sprinkle with coarse salt and spend a good five minutes with your hands in there, massaging the mixture onto each and every leaf. This process actually wilts the kale and gives it a great texture for a raw salad.
Your Tip:
Kale is on the Dirty Dozen list, meaning that non-organic kale can be coated in pesticides. It's worth the extra price tag to opt for organic when it comes to all kale, including the red varieties.
And your Recipe: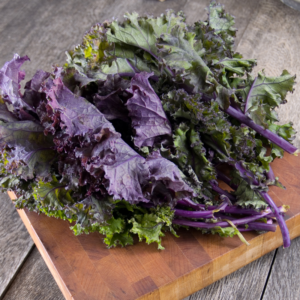 Crock Chicken and Red Kale Soup
Ingredients
1

tablespoon

coconut oil

1

medium

onion

chopped

4

cloves

garlic

minced

3

large stalks

celery

chopped

1 1/2

pounds

boneless skinless chicken breast meat

cubed

1

pound

butternut squash

peeled and cubed

3/4

teaspoon

caraway seeds

2

teaspoons

sea salt

1

teaspoon

freshly ground black pepper

2

14.5-oz. cans

diced tomatoes

3

cups

low sodium chicken broth

or use homemade

1

pound

red kale

chopped, large ribs removed
Instructions
Melt the coconut oil in a large skillet over medium-high heat.

Add onion, garlic and celery; cook until slightly soft.

Add chicken cubes and brown on all sides (but don't worry about cooking them through).

Transfer mixture to a crock cooker then add squash, caraway seeds, salt, pepper, tomatoes and broth.

Cover and cook on MEDIUM-HIGH for 3 hours.

Add kale and stir to combine.

Cover and cook for 30 minutes to 1 hour or until chicken cubes are fork-tender.
Subscribe to Dinner Answers today to begin receiving weekly menus delivered right to your email inbox!