Like most Paleoistas, I'm nuts about coconuts. Coconuts are relied on quite heavily for those of us following a Paleo lifestyle. I cook with coconut oil, I drink coconut milk and I add coconut water to my daily smoothie.
Coconut water is the liquid you find inside a coconut. The water of the coconut contains just about 50 calories per cup and no fat. Coconut water also contains magnesium and potassium. With its natural sugar (simple carbs), minerals (electrolytes), and water, you might consider coconut water to be nature's Gatorade.
Coconut water promotes kidney and heart health and can even fight aging.
I love the taste of coconut water, and because it only contains a scant amount of natural sugar, I don't worry about the daily dose I add to my morning smoothie.
And don't worry. I don't collect coconuts and crack them open each morning. You can buy coconut water in cans or in tetra packs.
But before you go shopping for coconut water, it's time for your Trick:
When shopping for coconut water, you MUST read your labels. Coconut water is only Paleo if it's 100% pure coconut water. Some companies like to add sugar to their coconut water and some are "from concentrate." Avoid those. I like the Amy & Brians Naturals brand of coconut "juice" because it contains pulp and makes you feel like you're drinking from a coconut.
Your Tip:
Add coconut water to your smoothie instead of almond milk! The mild flavor of coconut water won't overpower the flavor of your smoothie, and the minerals it contains add more nutrition to your smoothie than plain old drinking water.
And your Recipe: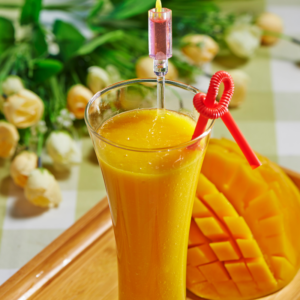 Tropical Blend Smoothie
Ingredients
3/4

cup

unsweetened coconut milk

1/4

cup

unsweetened coconut water

1/4

cup

frozen pineapple chunks

1/4

cup

frozen mango cubes

1

scoop

Perfect Paleo Protein

vanilla is best

1

scoop

FiberMender

optional

1

tablespoon

unsweetened shredded coconut
Instructions
In a high-quality blender, add in the coconut milk and water. Dump in the frozen pineapple and mango. Blend until mostly smooth and then add in the Full Bloom Perfect Paleo Protein and Fibermender and blend once more. Pour into a glass and sprinkle the shredded coconut over the top to garnish.