Dinner Diva
Comfort Food Makeover
By Leanne Ely, C.N.C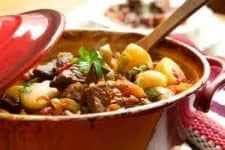 Comfort foods. Two words that bring an array of incredibly tempting and terrible treats to mind, especially before, during, and after a certain holiday that boasts of red and pink and way too many heart-shaped tchotchkes. These meals, hosted by our friend "comfort," are usually full of flavor and deliciousness that you'd rather not live without.
Luckily, you don't have to. These coveted favorites can still be made and still be comforting, but with a little more dignity. Just a couple little changes–but not faux sugar or fats; we all know there are healthier options than resorting to artificial substitutes.
So how can we change up a fatty favorite and turn it into something scrumptious and healthy without losing any flavor?
Well, let's break it down – starting with dairy. If you find that a required ingredient is a diary item, keep in mind that it always has a low-fat counterpart. Two percent milk is full of rich flavor without the fat and calorie content.
You ask, "what about butter?" Easy, try out whipped butter in the place of sticks; you get half the fat and all the flavor with the same measurements.
Moving right along to sugar. There are natural alternatives that can easily replace it, depending on the dish. Honey, maple syrup, stevia and xylitol can all stand in for sugar.
And now we've reached the carb family, some of our most familiar, most dangerous, and most comforting, faux friends. When cooking with flour, noodles, rice, and other starches, always look for the words "whole grain." Bleached starches aren't as friendly as they'd like us to believe. If you need to go gluten free, there's plenty of helpful substitutes out there; just check your local grocery or health food store.
With a little snip here, and a tiny tuck there, your formerly fatty casserole can be born again! The taste won't lose any integrity, and your body and soul will be guilt-free. What a difference to have a healthy and comforting food that doesn't leave its aftermath around your middle!
Healthy "Fried Rice"

3 cups cooked brown rice
1 tablespoon honey
1 tablespoon oyster sauce*
1 tablespoon soy sauce
1 tablespoon lime juice
1 teaspoon chili paste*
2 tablespoons fresh ginger, minced
4 eggs, beaten
2 tablespoons melted coconut oil
1 bunch green onions, chopped
1/4 cup shallots, sliced
2 cups spouts
2 cups shredded carrots
1 cup frozen or fresh peas
*available in the ethnic section of your grocery store or an Asian grocer.
In a large bowl add cooked rice and set aside. In a food processor (or blender) add honey, oyster sauce, soy sauce, lime juice, chili paste, and ginger. Mix well. Set aside. In a large skillet (or wok), place 1/2 of the coconut oil, the onions, shallots, sprouts, carrots and peas. Make a hole in the onion mixture in the pan add rest of coconut and pour the beaten eggs in the center of the hot oil, scramble, eventually allowing the eggs to mix with the veggies. When onions are clear, and eggs are done, put in with the rice in the large bowl and toss, add the liquid mixture, toss again. Serve.